Nokia goes full-tilt in unveiling its N97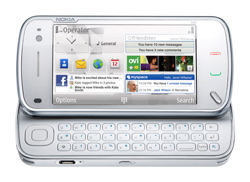 Mobile phone leader Nokia posted a countdown timer that ticked away the seconds until the company officially unveiled its newest mystery product. Early this morning, it was revealed to be the latest N-Series device, the N97.
As with the other N-series devices, Nokia calls the N97 a mobile computer rather than a handset. It runs S60 5th edition and offers 32 GB of on-board storage which is expandable as much as 16 GB via MicroSD. Communication protocols for the device are HSDPA, quad-band GSM, GPS and A-GPS, Wi-Fi, and Bluetooth 2.0.
Expected to come to European markets in the first half of 2009 with a unsubsidized price tag of €550, the N97 takes the now familiar touchphone design and adds a tilt sliding mechanism to reveal a full QWERTY keyboard. Also of note is the on-board 5-megapixel camera with 30 fps MPEG-4 video capture, integration with Nokia's Ovi and N-Gage services, and support for MP3, AAC, WMA, MPEG-4, H.264, Real Media, and Flash.
<!image id=2295 right>Executive Vice President of Markets at Nokia Anssi Vanjoki spoke at <!external href="http://events.nokia.com/nokiaworld/home.htm">Nokia World today, saying, "It is, of course, a phone as well, but it is a computer! We need to have all the same essentials on this as we have on any other computer that we use."
With the N97, Nokia debuts its social location concept or "So-Lo" (*cringe*). The idea is that the pocketable Internet and geolocation capabilities of the modern handheld device can provide a persistent window into social networks that allows for real-time updates.