Songbird 1.0 music player makes a landing

---
Download Songbird 1.0 Player for Windows from FileForum now.
---
The first complete version of open source desktop media player Songbird was released yesterday, combining the best features of popular players with the best of Web 2.0 content.
Songbird is a fully customizable media player that by default bears a strong resemblance to the design of iTunes. Of course, that is only the immediate impression the program gives off, as everything from the layout, to the color scheme, to the file format support can be changed according to the user's needs.
The user's library is listed like iTunes, complete with the left hand navigation bar with album art in the lower left corner. Like Winamp, SHOUTcast support is prominently featured, and the player itself has a built-in browser. Unlike either player, though, Songbird has a tabbed bar across the bottom of the player which fetches artist info from Last.fm, videos from a number of sites including YouTube and Yahoo, artist photos from Flickr, and upcoming show listings through Songkick.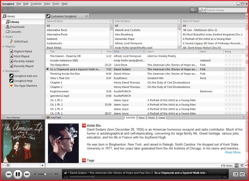 While device support is still somewhat limited, (no Zune support, weak iPod support), desktop format support does include MP3, FLAC, and Vorbis on all platforms; WMA and WMA DRM on Windows; and AAC and Fairplay on Windows and Mac which can come from any number of USB mass-storage devices,
Plug-ins (or add-ons, as Songbird calls them) can customize the program's appearance, playback capability, content discovery, and Web browsing. They are Songbird's bottom line and make the program as dynamic as the individual user.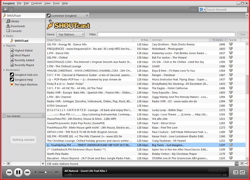 Version 1.0 supports Windows XP SP2 and Vista, OS X 10.5 and higher, or Linux i686 and x86/64.