Microsoft seeks 'community' help to make IE8 Standards Mode work out

If users install their first Internet Explorer 8 updates, and they notice their favorite Web pages look like scrambled egg soup, will they blame the browser? That's the dilemma Microsoft is facing as it cautiously embraces "Web standards."
As testers of Internet Explorer 8 Beta 2 are already aware, the new default rendering mode for Web pages is one that promises compliance with standards officially set forth by committees such as W3C. But the big problem major Web sites have all experienced (guilty as charged) is that they must support the somewhat standards-skewed rendering mode of previous versions of IE, up to version 6, in order to accommodate a majority of browser users.
"Despite all the outreach to sites, we saw from the telemetry data that IE8 Beta 2 users still have to use Compatibility View a lot," wrote IE8 Program Manager Scott Dickens yesterday on his team's blog. "Looking at our instrumentation, there were high-volume sites like facebook.com, myspace.com, bbc.co.uk, and cnn.com with pages that weren't working for end-users with IE's new standards compliant default. We could also see from our instrumentation that not all IE8 visitors to those sites were clicking the Compatibility View button. So, large groups of people were having a less than great experience because they weren't aware of the manual steps required to make certain sites work."
There actually aren't too many manual steps to take (conceivably, as few as one); the problem has apparently been with compelling users to want to take any steps at all.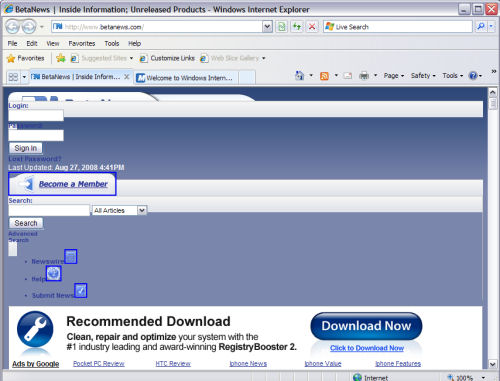 A recent test of IE8 Beta 2 shows BetaNews itself doesn't look all that hot in standards mode.
To that end, Dickens revealed yesterday, future builds of IE8 -- distributed at first, most likely in the form of update patches and through the first Windows 7 public betas next month -- will maintain an ongoing list of sites that appear to require Compatibility View, in hopes of aiding the browser in making the switch automatically. However, Microsoft doesn't want to be compiling this list alone.
"When users install Windows 7 Beta or the next IE8 update, they get a choice about opting-in to a list of sites that should be displayed in Compatibility View," Dickens wrote. "Sites are on this list based on feedback from other IE8 customers: Specifically, for what high-volume sites did other users click the Compatibility View button? This list updates automatically, and helps users who aren't Web-savvy have a better experience with Web sites that aren't yet IE8-ready."
Rather than take a cue from Google, this list will not be automatically compiled and shared with some server in the background. Instead, Microsoft will have humans make the determination, based on submissions from beta testers and frequent users. Microsoft will regularly update this list for IE8 users in the background, but only if users opt in to that service, Dickens demonstrated.
"Whether developers get around to doing this work or not, the people who use the Web expect that the web will keep working," the program manager concluded. "They want the benefits of interoperability and standards. They don't want to deal with compatibility issues."