HP premieres its $600 home server before CES

Rather than wait a week, Hewlett-Packard is hoping the post-Christmas bargain hunters are out an about this week, as it unveils its latest MediaSmart home server at a potentially attractive price.
There's no question that there's a respectably healthy niche market in the field of home servers -- computers that fulfill the function of a small business server, only with a more turnkey-style management approach. They're a way of leveraging another high-power CPU and high-capacity hard drive (maybe more than one) into a household that already has at least one of each, and probably more. And since home servers don't require monitors, their package price doesn't have to be "rounded up" by two hundred bucks or so.
This morning, HP announced it's knocking down the price of its MediaSmart home servers by about $150, while adding some new capabilities that Microsoft had been saying for quite some time were technically feasible for Windows Home Server-based systems. For instance, HP now says, its latest ex485 model is capable of managing backups from not only Windows but Mac OS X's innovative Time Machine.
Since a Home Server-based system is managed remotely using a Web browser, theoretically, that browser could always have been Mac OS X Safari. But in literature released prior to the ex485 announcement, HP blamed Apple for effectively not letting its hardware help manage a Mac network environment.
"In Mac OS X 10.5 ("Leopard"), Apple introduced a sophisticated backup system known as Time Machine. During the introduction of Microsoft Windows Home Server in early 2007, Microsoft publicly announced that the not-yet released Time Machine would be supported," reads HP's earlier white paper on the subject of MediaSmart and Macs (PDF available here). "However, eventually Apple chose not to include that capability -- at least in the initial release. Should that feature (allowing the use of an SMB filesystem as a Time Machine backup volume) be introduced, it will be an important capability in the coexistence of Mac OS X systems and the HP MediaSmart Server."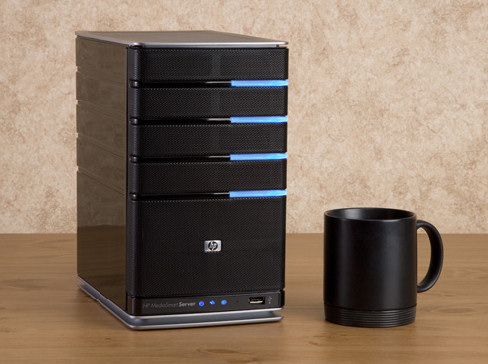 The ex485 will continue to make itself available on Mac networks as a "shared filesystem" in Finder, and will also stream media and share photos and iTunes tracks with Macs.
In a blow to AMD, HP is replacing the 1.8 GHz Sempron processors used in the ex475 with a 2.0 GHz Intel Celeron. The ex485 comes with 2 GB of DRAM (not the fastest DRAM, either, at 800 MHz) and 750 GB of storage; the new ex487 boosts that capacity to 1.5 TB. Both systems enable theoretical expandability to 9 TB, although its tight form factor limits that internal capacity to 3 TB, for $150 more. More home users may feel compelled to try out the hot-swapping feature -- the ability to plug new hard drives into drawers and bring them online without turning off the power.
Without a monitor, the MediaSmart doesn't need sophisticated graphics, either, relying on bare minimum integrated graphics for such things as initial setup. So if you think about it, what makes the MediaSmart particularly attractive doesn't have much to do with sophisticated hardware at all. It's the packaging -- its small 5.5" W x 9.8" H x 9.2" D dimensions -- and its ready-to-go configuration with Windows Home Server -- that could attract consumers. The $599 price tag for the ex485, down from $749 for the ex475, tests a new, lower potential "sweet spot" for consumers. But if this model takes off, it could still bring in a higher margin for HP than an ordinary desktop PC, which sells for as low as $400 (more like $300 for OEMs) or well under $600 for a Celeron 2.0 GHz-based HP notebook PC.
UPDATE HP is expected to begin shipment of its new MediaSmart servers in February, which makes one wonder why the company didn't wait until next week to make its announcement.