First look at Novatel's MiFi wireless hotspot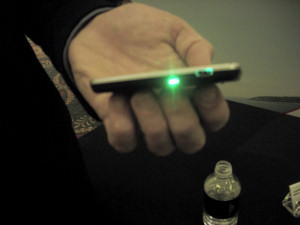 At the CES Unveiled press event tonight, Novatel Wireless gave a first look at MiFi, a pocket-sized WiFi hotspot for connecting up to five users in a local area to the Internet over a cellular connection.
Novatel actually introduced Mi-Fi on December 9. "But this is the first time MiFi has ever been shown outside of a lab," said a rep in the Novatel Booth.
Novatel is targeting the miniature hotspot at mobile workgroups in addition to consumers. The rep outlined a couple of consumer scenarios for BetaNews, including a college dorm room and parents wanting to be able to connect every family member to the Internet while on vacation.
MiFi comes in two cellular flavors: GSM and CDMA. Over the next couple of months, Novatel will announce carrier relationships for the wireless hotspot, BetaNews was told.