A glimpse at a new desktop Google Android device

Touch Revolution, a year-old California company that specializes in custom touch-based devices is showing off a desktop Google Android device similar to one that will be released nationwide through service providers later this year.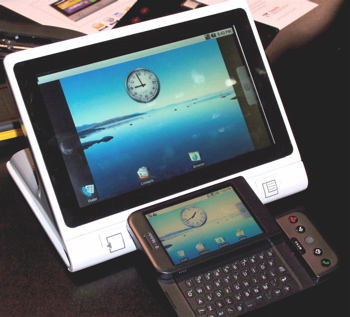 The desktop TFT LCD touch device is not the exact device that will be released later this year, since "Our customers wouldn't be so happy about us showing it off before they do," according to CEO Mark Hamblin.
"We deal mostly with service providers and cable operators that have existing services to push, or content they want to bring to customers in new ways."
To do this, the company introduced NIMble, its Android touch device development platform. NIMble allows for the custom development of an end-to-end Android solution for branded products and service vendors.
Most exciting however, is the glimpse at what a forthcoming Android desktop from a major service provider will look like. Though Hamblin couldn't give us any clues as to which company will be offering the Touch Revolution Android device, he did say that it will be available all over the United States when it comes out in either the third or fourth quarter of this year.