Nokia profits drop 69% in Q4

There's not much fun in Finland either today, as mobile-phone giant Nokia turned in an earnings report reflecting glum economic outlooks worldwide.
The company's 69% drop in Q4 net profits surprised analysts, and the company also took the earnings call opportunity to warn that contingent that sales in 2009 were apt to decline more than previously predicted. The company now says that worldwide sales in '09 are likely to be down 10% year-to-year, rather than the previously predicted 5%; as CEO Olli-Pekka Kallasvuo put it, "the macro environment is challenging and, we believe, will remain so in 2009."
Stating that "historically, Nokia's competitive position has solidified in times of turmoil," Kallasvuo took pains to say that Nokia's proceeding with its current long-term thinking about their business. But they'll be proceeding without about 1,000 employees, who'll be laid off in the near future. CFO Richard Simonson did not give specifics about those job cuts.
The news cast serious shade on Nokia's recent march to world domination. The company is the world's largest maker of mobile handsets, and the company has been aggressively expanding service offerings such as Comes With Music and messaging, particularly overseas.
Nokia has focused strongly on emerging markets, and those markets have taken a particular hit as global economic troubles worsen. Sales of Nokia handsets in China were down a remarkable 36%; in Africa and the Middle East, they were down 23%. Globally, Nokia's market share was 37% -- off by a percentage point since Q3, and by 3% since Q4 2007.
And phone shipments were even down in Q4. 113 million handsets shipped, which is actually fewer than in the previous, non-holiday-season reporting period. That was a surprise; in November, the company said that it expected to maintain or even perhaps increase its market share last quarter. Simonson put it bluntly: "We expected an uptick in sales that did not come."
Smartphones came up during the Q&A session, and there's good news for fans of Nokia's smartphone stylings: The company's still committed to expanding its Symbian series 60 offerings. Kallasvuo notes that though the US is still the strongest smartphone market, the category's isn't limited to that market; as he puts it, the smartphone market "has traction." In particular, the 5800 has gotten off to "a flying start," and "demand is well above supply."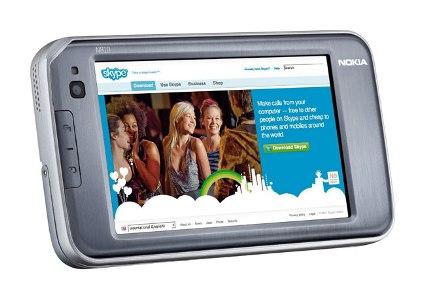 Obviously, when times are strange, strange things happen to product lines on the fringe. Nokia announced yesterday that it will discontinue its N810 Internet Tablet WiMAX edition, believed to be the only device on the market with a built-in WiMAX modem. The non-WiMAX version of the N810 will continue to be available, and Nokia reps have stated that this is just a temporary retrenchment, not a wholesale retreat from the high-speed data standard. (Incidentally, it's the N810 that's the prototype unit for development of Mozilla's mobile Web browser, Fennec.)
The company says it will pay out an annual dividend of 40 euros/share (around $52), down from 53 euros/share (around $69) for 2007.
Nokia shares on the NYSE were down to 12.20, about 11%, at press time. The stock closed on Wednesday at 13.71 and opened today at 12.01.