Rumored Apple tablet PC patent app has some history behind it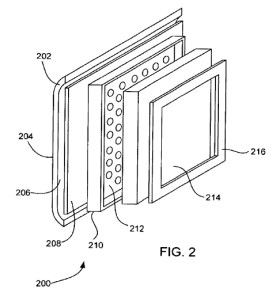 <!external href="http://www.electronicpulp.net/2009/02/03/apple-patent-shows-possible-design-for-upcoming-tablet-pcmid/">An article in this morning's Electronic Pulp shows what turns up to be a patent application filed early last month for a kind of laptop computer assembly where the logo is etched on panes of translucent plastic, such that it's invisible when turned off but illuminated eerily below when turned on. The publication talks about it as a possible application for a tablet PC or MID computer design, and speculates that it could represent a future tablet PC design.
The presence of the Apple logo, the writer went on, suggests that the company's design is "near complete." Well, unfortunately, he's quite right.
The blog-O-square ponders the possibilities of an acryllic logo, because Apple manages to keep it busy. The diagram in question has been submitted in patent applications by Apple as early as 1999, and has turned up in at least five other (ungranted) applications since that time, the latest having been filed January 5. The basic premise of "Display Housing for Computing Device" concerns the frame of a laptop display apparatus, though diagrams also clearly show a separate keyboard, disqualifying it from pertaining to a tablet PC.