Vista promotional registration site now fully operational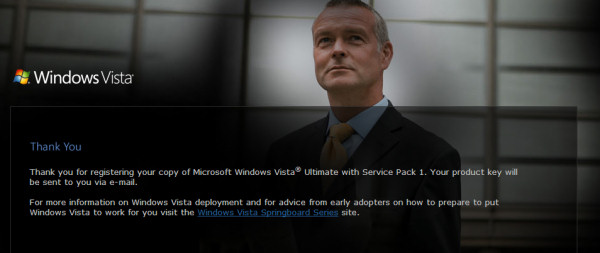 Guests of recent Microsoft seminars and conferences who received copies of Windows Vista Ultimate will be delighted to know <!external href="http://www.registerwindowsvistasp1.com">the Web site for registering their copies and receiving their product keys, is now fully operational.
In Betanews tests this morning, the registration site did require us to fill out a brief survey, which was understandable and not at all out of the ordinary. Upon entering our valid promotional code, which we received with a Vista Ultimate giveaway during a recent conference, we did immediately receive a product registration key via e-mail.
The promotional giveaway program for Vista was launched some months back, just after the public release of Vista Service Pack 1. While the program itself was extended to encompass the company's new nationwide tours, the Web site's built-in expiration had not been adjusted in kind.