Microsoft follows Apple with retail stores, but will people line up for a Zune?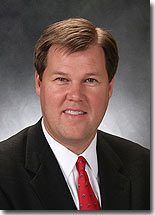 Planning a foray into standalone retail stores is risky business for a tech company not named Apple, but if Microsoft's going to take its long-rumored shot, it could have done worse than David Porter, the former DreamWorks and Wal-Mart exec they've hired to do the job.
According to the Redmond company, Porter's first task will be to define the time frame, location and specifics for Microsoft-branded retail stores. Porter will report to COO Kevin Turner, and he starts work on Presidents Day (that is, Monday).
For those readers mentally comparing the Apple Store experience and the Wal-Mart experience and wondering how that works out for Microsoft, reserve your judgment. The company has been testing ideas for retail stores for some time.
The "Microsoft Retail Experience Center" isn't open to the public (though you can <!external href="http://photosynth.net/view.aspx?cid=b3361a18-4d97-40d5-92d2-5a1094736786">visit virtually if you've got your PhotoSynth plug-ins loaded); it's both a test lab for how Microsoft products can be incorporated into any any store and a proving ground for how the company might present and sell goods in a store of their own.
As Apple would doubtless tell you, retail stores aren't just a place to exchange cash for goods; they're a laboratory in which the company can learn more about what consumers want and what is (or isn't) clicking with them. (They're also a place to make or break a brand. Ask Gateway about the 'break' part.) Microsoft's edged onto the periphery of the process before, most notably in San Francisco.
Turner, in a statement released by the company, echoed the learning aspect, saying the company's "working hard to transform the PC and Microsoft buying experience at retail by improving the articulation and demonstration of the Microsoft innovation and value proposition so that it's clear, simple and straightforward for consumers everywhere."
Porter added, "I am excited about helping consumers make more informed decisions about their PC and software purchases, and we'll share learnings from our stores with our existing retail and OEM partners that are critical to our success."
Porter joined DreamWorks in 2007 as head of worldwide product distribution. Previously, he spent 25 years at Wal-Mart, where he started as a teenaged janitor in Broken Bow, Oklahoma and departed as vice president and general merchandise manager of Entertainment. The projects for which he was responsible at Wal-Mart include the company's exclusive music releases from such artists as Garth Brooks and the Eagles -- an unusual direction in branding and retail at the time (and one that scared the socks off some music-industry folk).
Porter is also suspected in some circles of being the muscle that kept the movie studios from getting too friendly too early with Apple's iTunes store. Movie downloads compete with Wal-Mart's immense DVD retail sales, which account for just under half of all DVD sales in America; the studios' long hesitation to offer films online was at the time believed to be at least in part due to Porter's influence.