Sprint: Palm Pre to get real MMS, Exchange support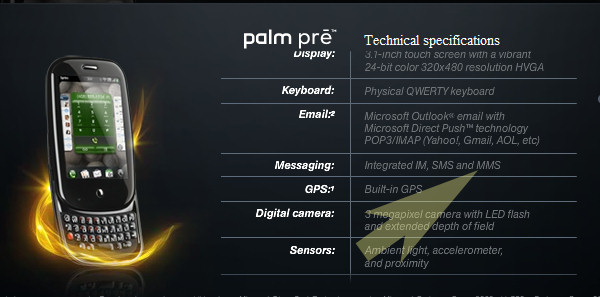 The addition of <!external href="http://now.sprint.com/pre/">technical specifications to Sprint's Web site for its upcoming Palm Pre confirms a few features we didn't even see demonstrated at CES last month. One very important feature is support for Microsoft Exchange direct push e-mail, enabling businesses with Exchange Server 2003 or XS 2007 to make their investments in Pre right away.
The other -- which will delight many and maybe even wrinkle some iPhone fans' noses -- is native support for Multimedia Messaging Service (MMS). Sure, iPhone users have told us, you can send and receive MMS messages...through an almost Clintonian definition of "can." Almost every time you see a headline <!external href="http://gigaom.com/2008/09/14/iphone-gets-mms/">proclaiming the iPhone now has MMS, the story boils down to "Kind of..." which assumes you download someone else's app, that your recipient downloads the same app, and that Apple doesn't make you jump through hoops to do it. No hoops from Palm or Sprint, apparently, if these technical specifications just published are accurate.