Windows Mobile 6.5 made official, but not for older devices

At the Mobile World Congress in Barcelona, Microsoft gave a grand tour of the new iteration of Windows Mobile, along with My Phone, the company's MobileMe equivalent.
Microsoft CEO Steve Ballmer in November semi-officially confirmed that Windows Mobile 6.5 would be released in the second half of 2009, after a long run-up with rumors and speculation about Redmond's progress in the touchscreen OS field. What wasn't "officially" noted at the time was that devices running older versions of Windows Mobile would not be able to upgrade. Rather, it will only be available as the pre-installed OS on new devices.
Windows Mobile 6.5 differs from the rest of the touch OS pack by offering a hexagon-based layout rather than a grid. While this does force icons to consume more screen real estate, it is closer to the shape of the fingertip's point of contact, making it an intuitive design choice.
Microsoft has taken the traditional Start menu and turned it into more of a dashboard, where gadgets and rich internet applications are housed. Windows Mobile 6.5 comes bundled with a new Internet Explorer Mobile, which is built on the foundations of the now eight-year-old desktop version of IE6 -- something developers may not be too happy about.
In addition to the app store mentioned earlier this morning, Windows Mobile 6.5 gets another functionality upgrade that has drawn immediate comparison to one popularized by Apple's iPhone: a cloud sync service. Microsoft, however, will offer it for free.
My Phone, which is currently in closed beta, lets users back up their contacts, calendars, text messages, photos and videos to their My Phone service, which links up with their Windows Live ID. It is like a wireless and infinitely more simple version of Windows Mobile Device Center, that allows information to be synchronized across multiple connected devices.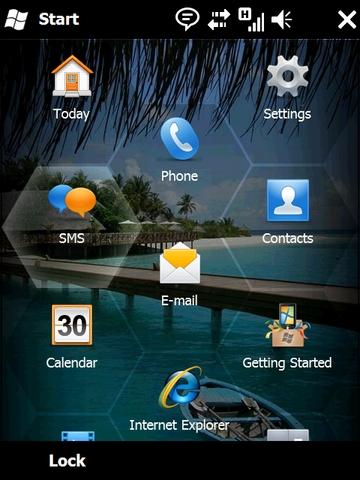 View images of Windows Mobile 6.5