Windows XP to Windows 7 upgrades: Difficult, but not impossible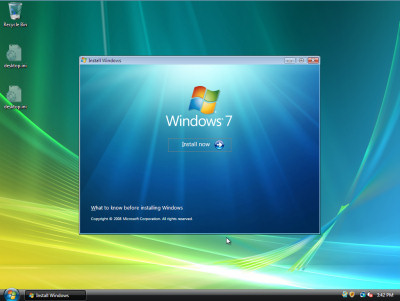 It shouldn't surprise many testers that Microsoft has shrewdly closed the upgrade channel for users who will -- probably sooner this year than later -- be making the switch to Windows 7. Many who had chosen to steer clear of Windows Vista and hang on to Windows XP -- by all rights, a decent operating system, at least for Service Pack 3 users -- are pondering the nightmare scenario of having to upgrade to and validate (which usually means, pay for) both Vista and Windows 7, if it so happens that Windows 7 proves to be desirable or simply necessary.
This led us to thinking: Windows Vista can run without being purchased and activated, albeit for a limited time (usually 30 days). During that time, it behaves as though it were a fully operational trial edition (except for the Ultimate SKU, where several of the "Extras" aren't available except after validating). But it doesn't take a month to install an operating system; so what if a valid XP user could simply borrow the promotional edition of Vista, if you will, to make the skip over to Windows 7?
You can't download a trial version of Vista any more that runs on a physical machine; the trial edition now is <!detail id="1179330082">a pre-configured virtual hard drive (VHD) that lets you test the applicability of your existing software in a Virtual PC environment. So you can't make the hop to Windows 7 via a downloadable version of Vista. And although you can download a real, physical trial version of Windows Server 2008 (which, after all, does have the Vista kernel), you can't install it as an upgrade of Windows XP...just Windows Server 2003.
So it might seem pointless, at first, to say that the first tool you need to make an XP-to-Win7 upgrade is a copy of Vista. But the key here is that you don't need to activate Vista after you've upgraded from XP to Vista, before you begin the upgrade from Vista to Win7. This could give hope to XP users who do plan to purchase Windows 7; all they need to do is borrow a friend's legitimate copy of Vista.
For Betanews' test (which used Virtual PC), we intentionally used a very old, non-updated Windows XP Professional virtual machine, with only Service Pack 1 installed. But very importantly, Office 2007 was also installed. Because this was an old VHD, we had to activate both XP and Office. But doing so at least ensured us of an antique-like system in good working order, with real working applications whose settings would need to survive the upgrade as well.
For the heck of it, we attempted a few tricks to see if Windows Server 2008 could be made to install as an upgrade. Those tricks failed, but not surprisingly. We also double-checked for the availability of an evaluation version of Vista. No such version is officially available from Microsoft's servers at present.
We had a legitimate, promotional Windows Vista Ultimate disc that we received from a Microsoft conference. We used this to upgrade our XP-based VM to Vista Business. That was successful, but then we encountered a little problem that may only be encountered these days in the virtual world: Our (virtual) hard disk was too small. Microsoft tools are unable to expand the size of an already-created VHD, but thankfully a third-party utility did the trick.
When installing Vista Business, we did not enter any serial number, opting to do that "later." When you opt to omit the serial number, the setup program asks which version of Windows you "purchased." Here is where we entered Vista Business, because we're not allowed an upgrade path between XP Professional and Vista Home Basic or Home Premium -- only Ultimate. And for this purpose, we don't really need Ultimate.
Probably because we used such an old VHD to begin with, with a small initial size (20 GB), the upgrade-to-upgrade process did manage to consume the entire day. Just getting Windows 7 onto the system isn't enough -- we wanted to make certain it could be legitimately activated. Would the lack of any Vista activation preclude our ability to activate the latest Windows 7 public beta?
<!media id=2809 right>As we learned late today, after waiting through a long installation process...it was no problem. We entered a legitimate serial number after the installation process was mostly complete, and told the Setup routine to automatically activate Windows after the next reboot, and it did. (We had some trouble with the Virtual Machine Additions driver, but that would only affect virtual machines anyway, not physical systems.)
And what's more, Office 2007 -- which had run in Windows XP without trouble earlier the same day -- ran without a hitch in Windows 7 Build 7000. That's about five years of operating system evolution in one day's time, without negative impact to our applications.
We cannot guarantee that this installation system behavior will remain the same in the final Windows 7 release build. But this test presents, at the very least, some hope that with about a day's work and a lot of patience, Windows XP users will be able to escape the fate of their software setups being rendered outmoded should Windows 7 indeed live up to Microsoft's many promises.