Internet Explorer gets updated Google search toolbar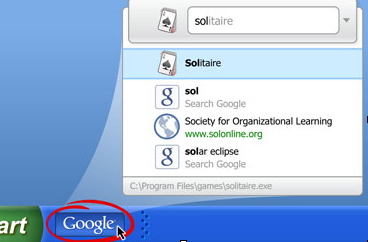 In keeping with Google's habit of giving its search fields multiple purposes, the new Google Toolbar 6 beta for Internet Explorer is just a little more than its name lets on.
Packaged with the toolbar is what is known as the Google QSB (quick search box) which appears as a Google logo next to the Windows Start Menu when it is installed. Clicking on it opens a search field that doubles as an application launcher which remembers your most frequently used apps.
Speaking of frequently used, the toolbar enables Internet Explorer with the Tab Page which shows a grid of your most visited sites that is Chrome's default screen, and that is also included in the Firefox Toolbar released at the end of January. We're seeing screens like that <!article id="1235585229">quite a bit this week.
The Google Internet Explorer Toolbar 6 Beta is available here: <!external href="http://www.google.com/tools/firefox/toolbar/FT5">Google Tools