Apple refreshes its Mac desktops with Intel Nehalem CPUs

"The all-in-one for everyone." Three new additions to Apple's all-in-one desktop iMac were debuted today, in both the 20" and 24" profiles. The sole new 20" model will retail for $1,199, have a 2.66 GHz Intel Core 2 Duo processor with 6 MB L2 cache, 2 GB 1066 MHz DDR3 SDRAM which is expandable to 8 GB, a 320 GB 7200 rpm SATA hard drive, and an integrated Nvidia graphics processor (GeForce 9400M).
The 24" model got three new permutations, ranging from $1,499 to $2,199. They can come with a 2.66 GHz, 2.93 GHz, or a 3.06 GHz Intel Core 2 Duo processor, have 4 GB 1066 MHz DDR3 SDRAM, offer either a 640 GB or 1 TB 7200 rpm SATA drive, and three different Nvidia graphics cards. The base model comes with the same integrated GeForce 9400M as the 20", but the upgraded versions offer either a GeForce GT 120 or a GT 130.
Apple may be pushing its base and premium price points up a bit, though not too much. When it first switched to Core 2 Duo processors in 2006, it dropped its base price to the $1,000 mark, with two higher tiers at $1,499 and $1,999.
"Faster, Greener, Still mini."The two new Mac minis both offer a 2 GHz Intel Core 2 Duo processor and integrated Nvidia GeForce 9400m graphics, but the $599 base model has 1 GB of SDRAM and a 120GB 5400 rpm SATA drive, while the $799 model has 2 GB of SDRAM and a 320 GB 5400 rpm SATA hard drive. The main update to the Mac mini chassis is the inclusion of both the Mini DisplayPort and DVI outs as well as five USB ports.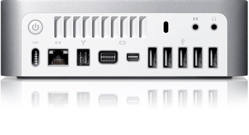 The new Minis maintain just about the same price split as their predecessors. Throughout 2006, Apple maintained two models priced at $599 and $799 as well; that upper tier price dropped to $699 in 2007.
"Beauty outside, Beast inside."The Mac Pro line is now powered by Intel's Nehalem generation of 45 nm Xeon processors, with two new pre-configurations.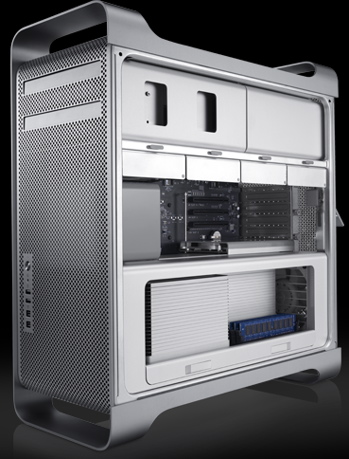 The $2,499 base model is equipped with a quad core Intel Xeon 3500 running at 2.66 GHz, 3 GB of SDRAM, an Nvidia GeForce GT 120 graphics card with 512 MB of GDDR3 memory, and a 640 GB 7200 rpm 3 Gbps SATA drive. The $3,299 version comes with dual 2.26 GHz quad core Xeon 5500s, 6 GB of SDRAM (expandable to 32 GB), and the same graphics and storage as the cheaper unit.
Both the new 802.11n Airport Extreme and the Time Capsule have dual-band 2.4 GHz and 5 GHz Wi-Fi radios with support for simultaneous "guest networking." The guest network is a second Wi-Fi network with a different password (or none) which is separate from any network drives, printers, and Bonjour devices.
The latest Time Capsules come in 500 GB and terabyte sizes, and run $299 and $499 respectively, the new feature for these is their remote accessibility through MobileMe. Users must register their time capsule with MobileMe, and then when logged on from any location, files that they have saved on their Time Capsule become accessible. It's an identical concept to others already available in the market, like Seagate's Central Access.