Apple unveils a new, tiny iPod Shuffle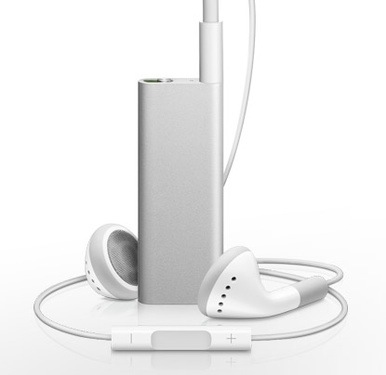 The new iPod Shuffle was introduced today, revealing a device completely free from buttons and measuring only 1.8" (45mm) x .7" (17mm) x .3" (7.62mm) in size. Jacobim Mugatu would approve. To shrink down the device to half of the size of the last generation Shuffle, the controls have been moved to the headphone cord. A simple three-button switch allows for play, pause, skip, volume, and activation of the new 4 GB USB Shuffle's banner feature.
VoiceOver gives the Shuffle the ability for it to speak song titles, artist names, and playlist categories in any of 14 languages.
The new iTunes VoiceOver Kit generates the voice, which will differ by the operating system on which iTunes is installed. When the feature is selected, the computerized voice says the name of the track and the artist. It also warns when the Shuffle's battery is low, or can be used to rifle off all of the playlists on the device. Since it recognizes 14 languages, song titles are spoken in those languages, like Mandarin or Japanese, Greek, or Swedish.
It doesn't recognize your voice yet (for that, you'd probably expect to pay more than $79), though you can "respond" to its voice through the headphone cord.
The device comes with some immediate drawbacks as well: First, the VoiceOver feature is part of iTunes 8.1, which is not available yet. Secondly, because the controls have been moved off of the device and onto the headphone cord, support for third-party headphones has been dramatically reduced. And third, the USB plug does not at present appear to be Micro USB, validating recent concerns by many about how Apple has not signed on to the Micro USB standard.