The heat is on: Latest Google Chrome closes the gap with Safari 4, Firefox 3.1

---
Download Google Chrome 2.0.169.1 for Windows from Fileforum now.
---
For the first time in...forever, speed and efficiency are becoming factors in determining the quality of Windows-based Web browsers, in a race for excellence that has never been this competitive. Last week, when we tested the five leading Windows-based development browsers, what was then the latest version of Google Chrome scored a solid second place in speed and performance tests on the browsers' respective JavaScript interpreters. Apple's Safari 4 for Windows was out front and pulling away, and the new Firefox 3.1 Beta 3 was making it a three-way battle.
Even adopted Hoosiers like myself love a good race in the spring. Today, with the release of a new beta edition of Google Chrome (build number 2.0.169.1), Betanews added the latest build to our ongoing virtual machine performance test. We've been using a clean Windows Vista SP1-based virtual machine, with only the latest browsers installed. We didn't add any system updates to the VM from last week, because we wanted the new Chrome's figures to be relative to all the others. And we're using not the fastest test environment (a Virtual PC 2007-based Vista VM) because we're interested in relative performance, not raw speed.
In last week's tests, we developed a speed index that accumulates the score from four different performance suites, compared against a relatively slow Web browser: Microsoft Internet Explorer 7. All our scores are indexes relative to how IE7 fared under the same conditions, which we scored 1.0 as a basis.
Our test suites include HowToCreate's CSS rendering test (since the rendering times can vary, we averaged the times for five renders for each browser); developer Sean Patrick Kane's octathlon which renders a cumulative speed after a battery of eight tests; the Web Standards Project's Acid3 compliance test, which renders its score as a percentage; and the SunSpider JavaScript Benchmark, a pentathlon of real-world simulations that include elements like AES, MD5, and SHA1 cryptography puzzles; ray-tracing formulas; and handling of JavaScript Object Notation (JSON) expressions.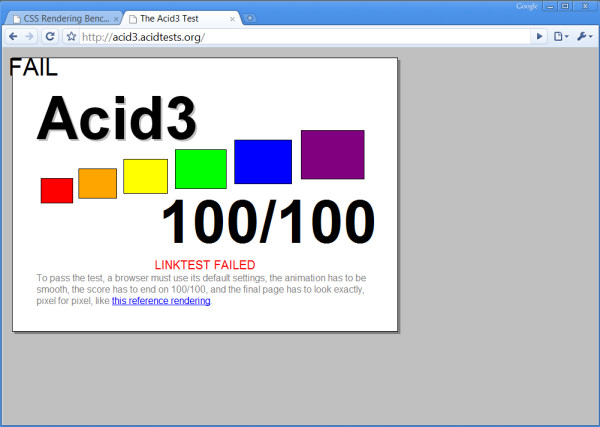 The latest Google Chrome beta made one big impression right away: For the first time, it scored 100% on the Acid3 test, versus the latest Google production edition's score of 79%. That gives the new Chrome a leg up coming out of the gate with an 8.33 index score (it rendered text according to standard 833% better than IE7). At least, that's what we think. As our screen capture shows, the test still projects a big ol' "FAIL" word over the result, popping up just after the test begins. But the final number is still 100, and that's how we'll tally it until we hear otherwise.
Next: Is Chrome 2.0 beta really 35% faster than old Chrome?...