Myka set-top box nears completion, BitTorrent on TV awaits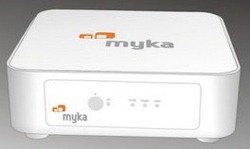 Internet video startup <!external href="http://www.myka.tv/">Myka may have had <!article id="1232652088">a brief rough spell before its Linux-driven set top BitTorrent box could become a reality, but the first products will soon be touching down in consumer living rooms.
The initial manufacturing run of Myka's 80 GB, 160 GB, and 500 GB high-definition set-top boxes will be completed on April 6. These boxes are equipped with a built-in BitTorrent client and support for most of the video and audio codecs applicable to the enjoyment of the peer-to-peer technology.
In January, the company placed product availability in the "four- to six-week" time frame, and it looks like it will be making mostly good on that promise. Myka President Dan Lovy told Betanews this morning that shipments will begin within a couple of days of their April 6 arrival.
The video below gives a very quick look at Myka's playback quality, and includes an ever-so-brief look at its support for iTunes HD: