Mobile marketplace could make Windows Mobile 6.5 worthwhile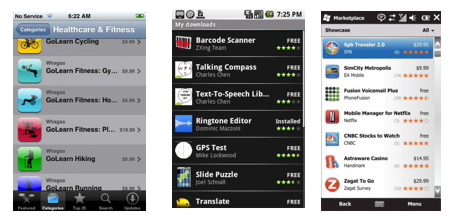 Even though the interface is practically indistinguishable from that of the Android Market, details revealed today by Microsoft about the Windows Mobile Marketplace adds promise to Windows Mobile 6.5, an OS version that many have already written off as a placeholder until WM7.
When Windows Mobile Marketplace goes live, it will be populated with software from companies such as EA, Netflix, Pandora, Facebook, Sling Media, Gameloft, AccuWeather.com, and at least half a dozen others. Many of the apps will be ports of apps already proven popular on the iPhone, and Microsoft said it expects many more developers of the nearly 20,000 Windows Mobile developers to list apps.
Also like the Android Market, Windows Mobile Marketplace will have a grace period where apps can be returned for a full refund, and payment may be made either with a credit card, or through carrier billing.
<!article id="1236778053">Contrary to Microsoft's original announcement, it will not cost developers to list their apps in the marketplace, and they get to keep 70% of revenue drawn from software sales.