The new Nehalem-based Apple Xserves promise a price advantage

This morning's announcement of the first Apple servers to use Intel's Nehalem-series Xeon processors may be a bit more tentative at the core than it seems on the surface. What could be the best performers in Apple's new rack-mount lineup are actually not available yet, although this morning's announcement made it appear -- and some sources are actually reporting -- that the high-end models are available now.
What data centers can get now are Xserve models based on the new 2.26 GHz Intel Xeon E5520. But the performance and power-saving tests Apple cites this morning are focused on the 2.93 GHz X5570, and we don't yet have prices or availability data for those models. Betanews has contacted Apple in an effort to get further details.
Yet purchasers may be intrigued, for once, by the prices Apple has revealed today. A basic, 1P E5520-based system starts at about $3,000. Granted, Xserve comes with unlimited client access licenses for Mac OS X, but since you need Macs to run them on, that "un-limitation" may be almost comical. Still, when we matched configurations as closely as possible between a new Xserve and a Xeon E5520-based Dell PowerEdge R710 (with 3-year licenses for Red Hat Enterprise Linux), the Dell price tag came up to $5,781, while the Apple stayed down there at $3,149. Take out the Linux licenses, and the Dell server still commands a $4,682 price tag.
Xserves are built to run Mac OS X, which is, after all, a UNIX variant. Whether they'd perform well running Linux instead depends on whether Mac OS is somehow "locked in;" but if it proves feasible, a data center may actually save some money up front by going with Apple.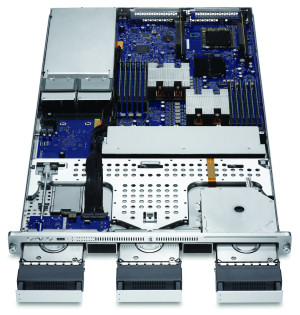 Whether it saves money over time depends on the server's energy performance, and that may actually prove to be the downside of Apple's argument. The company today touted its thus-far-unavailable 2.93 GHz Xserve as cranking out 227,974 operations at 100% target load, in the SPECpower_ssj 2008 benchmark. That's almost 61% better performance, by Apple's measurements, over the company's similarly equipped Xserves using Intel's previous generation Xeons at 3.0 GHz. And the new Xserve's score of 464 ssj_ops per watt at target load is about 39% more energy efficient than the old model, setting a performance-to-power ratio score of 683.
Here's where Dell rakes in the points. In officially recorded scores, a similarly equipped PowerEdge R710 with a 2.93 GHz Xeon X5570 CPU cranked out 541,345 operations at 100% target load, with an ssj_ops per watt score of 1,746 and a performance-to-power ratio of 2,287. That means Dell can tout its PowerEdge as being 335% more efficient than Apple...which is the typical case when you're competing against a discount brand.