Finally, a non-HTC Android phone

Samsung today announced its first Android mobile handset, becoming the first company since HTC to come forth with a completed piece of mobile hardware supporting the open source operating system.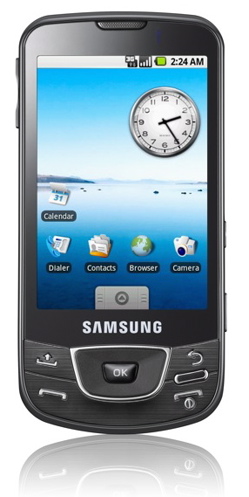 The I7500 is a GSM and HSDPA touchscreen phone that includes most of the same accouterments as HTC's G1, such as Wi-Fi, Bluetooth 2.0, GPS, and the full host of Google tools. However, it ups the ante on HTC's products considerably by supplying a 5-megapixel camera, 8 GB of onboard memory expandable to 32 GB via microSD, a 3.5mm headphone jack, and a microUSB port.
At Mobile World Congress 2008, the South Korean company said it would be bringing an Android-powered device to market by early 2009. By the time MWC 2009 came around in February this year, the company said it had to delay production while negotiations with mobile carriers continued.
The I7500 will be launched in "major European countries" in June, according to Samsung, but does not yet have a gimmicky product name.