Hunch borrows a cue from Pandora, but for answering your deepest questions

I'm in the market for a bike, but as a skateboarder of more than twenty years, bicycling has been something of a taboo subject for me. Bikers were the guys who destroyed skate spots with their pegs and caused horrific skatepark collisions that could have been easily avoided if both parties involved were riding skateboards.
But now that I'm older, those prejudices have faded and I find that I know practically nothing about bicycles. I'm clueless about the kind of bike that will suit my needs, much less what brand would be best. However, I do know that I plan to ride more on paved roads than off-road, that I'll be riding for exercise, and that I plan on spending between $500-$900. I will take my case to hunch.com.
Hunch is a site currently in beta that is similar to Yahoo Answers, but is designed to inform and help make decisions based on community knowledge. Rather than submit a question to the big, cruel Internet and wait for an answer, users search Hunch for their question, and then take a quick test to receive an answer. For every test you take, Hunch learns more about you and how your tastes relate.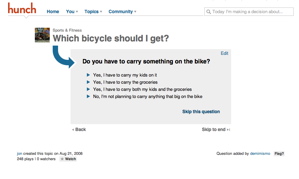 After answering six questions, I am informed that a hybrid bike might be best, and I'm given three choices of brands and information about each, included user-submitted pros and cons of each answer. The content on Hunch isn't limited to shopping and commerce, and the questions are so diverse that you'll find yourself looking for answers to questions you'd never even considered. For example, to the question "Which animal should I find fascinating?" was answered with Platypus. I sort of scowled at this until I read the description and learned something I never knew about the bizarre animal: Males of the species are venomous. Now this may be common knowledge for any secondary school biology student, but it somehow slipped by me, and I found myself chuckling at how fascinated I was.
Another user submitted those topic questions, and created the tests that gave me my answers. The user chooses which test answers yield certain results.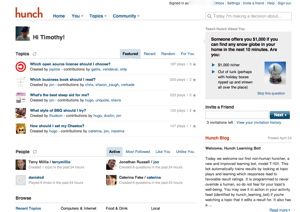 The site is still young, and there is a lot of space for growth as users submit more tests. However, user submissions are not the central attraction of Hunch. It was started as an exploration of machine learning and how it can be used in practical decision making. All user submissions and decisions are being used in a Hunch core algorithm that ranks results according to how appropriate they are to each user.
On Friday, a big addition was made to Hunch: the site's first bot user. This program has been given its own profile and goes by the name T-101; its job is to look at the tests that are taken, and learn which results earn the most favorable ratings, and tighten up those results which do not receive favorable ratings.
Eventually, Hunch will be something like Pandora, except for more than just music, and across categories. For example, your taste in music and your political predilections may lead Hunch to suggest you visit a certain city or eat a certain food.