EcoFocus: PiSAT launches solar-powered 'green' lantern

PiSAT and its partner the Koinonia Foundation gave the K-Light its first big push at last night's EcoFocus show in Manhattan, demoing how the soda can-sized solar device can morph from a lantern to a flashlight in just a few seconds when you remove the side handles and the piece on top.
Like SunNight's solar flashlight, touted during the CEA's Greener Gadgets Expo last month, PiSAT's K-Light is set for distribution in a couple of different ways: through foundation subsidies in developing nations, and commercial sales in the US and elsewhere.
The K-Light gizmo currently for sale for $49.95 on PiSAT's Web site works great for both "recreational and emergency preparedness" uses, said Bennett Meyer, manager of PiSAT Solar, in a meeting with Betanews at Pepcom's EcoFocus press event. You might want to tote the solar lantern/flashlight along with you on a camping trip, or stash it inside a closet in readiness for the next electrical brownout to hit your neighborhood.
Through the Koinonia Foundation, though, PiSAT is also getting the solar devices out to African villages where people still rely mostly on air polluting and potentially dangerous kerosene lamps to light up their homes after dark.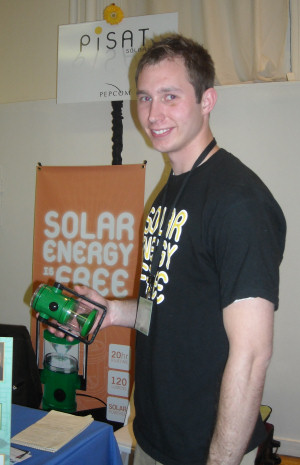 Weighing in at 22 ounces, the K-Light is water-resistant, shatterproof, and mercury-free, according to Meyer. The side handles rotate 360 degrees, and can be locked into 12 different positions. Through the proverbial flick of a switch, you can set the 120-lumen LED for either maximum brightness, with a 10-hour runtime before solar recharging, or for less brightness, with a 20-hour runtime.
For purposes along the lines of economic sustainability, the Koinonia Foundation's Beacon Program is giving start-up "grants' of K-Lights to African women to sell in their villages. The K-Light recipients can then use 100 percent of the earnings from the initial sale to buy K-Lights at a vastly reduced price, thereby establishing local businesses that provide an "ongoing and sustainable source of income," Betanews was told.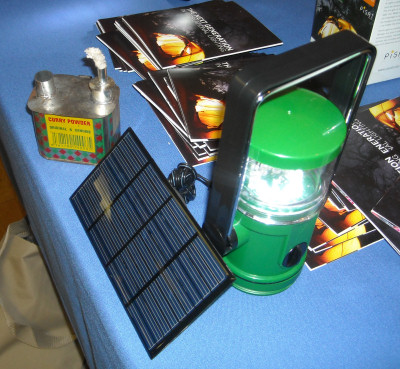 For every K-Light sold on its Web site, PiSAT donates part of the proceeds toward the foundation's solar projects.
A bit similarly, SunNight now sells 30% of its own solar flashlights directly in Africa, while another 30% are distributed through humanitarian groups and the remainder go to other destinations, ranging from police forces around the world to US retail chains like Target.
Although SunNight's flashlights last a much longer 750 to 1,000 hours without recharging, the SunNight gadget uses a mixture of solar and nickel hydride battery power. In contrast, PiSAT's lantern/flashlights are "100 percent mercury-free," according to Meyer.