Touchscreen Zune touches down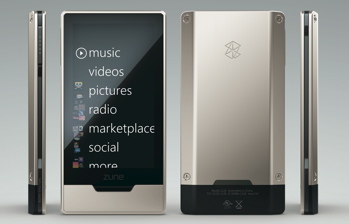 The new Zune's HD qualities are twofold. First, it contains a built-in HD radio for receiving terrestrial multicasts, and second, it will have an HDMI-equipped dock for 720p high definition video output.
Though these are the qualities that give the device its "HD" name, they are somewhat overshadowed by the Zune's other new features: the upgrade to a multi-touch interface, support for full Web browsing, and Xbox Live integration.
<!external href="http://www.zune.net/en-us/mp3players/zunehd/default.htm">Zune HD is equipped with a 3.3" (480x272) 16:9 widescreen OLED touchscreen. It will include a full-screen Web browser optimized for multi-touch gestures, with zooming initiated by tapping, accelerometer-based screen swap, and a soft keyboard. It has not been announced if it is a unique edition of Internet Explorer Mobile, or if it is the same as that which will be <!article id="1237565496">packaged with Windows Mobile 6.5, or if it is another browser entirely.
The Xbox Live Video Marketplace, which has been up and running for <!article id="1164238559">for more than two and a half years will now prominently feature the Zune brand. Microsoft has not provided further detail on the Zune's integration with Xbox Live, as Redmond intends to spotlight the new functionality at E3. <!article id="1216063963">Redmond used the annual video game industry convention last year to announce the addition of Netflix and NBC Universal streaming content to the Xbox Live Video Marketplace in its update to what it called the <!article id="1227032889">New Xbox Experience.
Pricing, capacity, and launch details have not yet been disclosed, but the Zune HD is expected to be available worldwide by Fall 2009.
<!image id="3134" align=center>