A look at Eeebuntu Base 3.0

---
Download Eeebuntu Base Edition 3.0 from Fileforum now.
---
Eeebuntu is a custom Ubuntu distro optimized for use on Asus' Eee PC line of netbooks. By incorporating Ubuntu with the Array Kernel and EeeConfigure, Eeebuntu eliminates much of the massaging Ubuntu would require to fully work on Asus' popular netbook.
To accommodate the various capabilities of the vast Eee product line, Eeebuntu comes in three different ISOs: Eeebuntu Standard, Netbook Remix, and Base. A week and a half ago, Eeebuntu released version 3.0 of its Base edition, the lightest and tightest of the three ISOs.
To test this barebones Ubuntu distro, we loaded it on the most barebones Eee available, the 2g Surf 700. With a 900 MHz Intel Celeron M, 256 MB of RAM, and a miniscule 2 GB Flash drive, it proved an ideal candidate for upgrade. To add to the unit's need for an overhaul, it is equipped with a 4-cell battery at only 2% capacity, completely decimated after two years of being used on the road.
Since Base 3.0 was released, a number of users complained of an installation that freezes at 5%. In Betanews tests, we too experienced this problem, not only in installation, but also during creation of a bootable image in Unetbootin. Fortunately, a simple "brute force" approach eventually created the bootable SD card (4 attempts), and also eventually made the installation work (6 attempts). Both processes took no more than 5 minutes to reach 5%, so it is a hassle, but not a long wait for failure.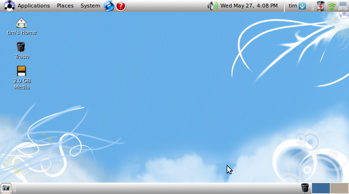 After installation, startup takes 72 seconds and puts the system immediately online if it is in range of a familiar wireless signal. The desktop and architecture are identical to Ubuntu 8.10 (Intrepid Ibex), but the Base distro lacks almost all additional software and plug-ins. It includes Firefox, remote desktop, a text editor, a BitTorrent client, terminal, Synaptic, and a few other tiny applications. Everything else can be added at the user's will.
Because things like Compiz and Java are not installed by default, the system consumes fewer CPU cycles and therefore less battery power, a definite bonus on a system with a battery 98% dead. When the power supply is disconnected, Eeebuntu intelligently switches to reduced performance mode and dims the screen by 25%.
So even with a battery with only 2% of its capacity, our system ran for 82 minutes at a low/moderate CPU load (averaging 34%, hooked up to external monitor, Wi-Fi connected, running IBam and system monitor.) Using the computer casually (that is, downloading and installing software and using Firefox) drained the battery in 66 minutes.
For Eee users familiar with Ubuntu who know the open source programs they frequently use, Eeebuntu Base is worth checking out. It is stripped down not to the absolute basics, but to the point where very little elbow grease is needed to get the system running efficiently.