Windows Mobile 6.5 developer toolkit available now

Late last night, The Windows Mobile team made the Windows Mobile 6.5 Developer Tool Kit available, which is not a standalone Software Development Kit, but an add-on component for the Windows Mobile 6 SDK.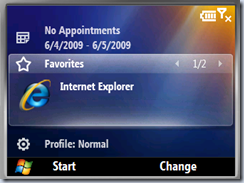 The Toolkit includes emulator images, new touch and gesture APIs, and code samples for developing software for Windows Mobile 6.5. The team is most excited about widget development, and in its blog today provides a step-by-step guide for widget creation (essentially "write the code, package it, run it.")
With the emulator images provided in the Toolkit, developer and consultant Nikita Polyakov has provided the first review of Windows Mobile 6.5 Standard (a.k.a. the non-touch version) which is expected to be available as an upgrade on the Samsung Jack. In these emulated images, Bing Mobile is the default search, and there is a desktop app leading to the Windows Mobile Marketplace, which still leads to a placeholding site.