New Google Toolbar wants to be your next 'Start' button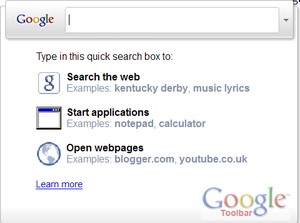 The latest version of the Google Toolbar, now on version 6 for Microsoft Internet Explorer, remains the most convenient way to expedite searches through the Internet's most versatile search engine. But with each successive version, this one being no exception, Google tries to be a little more "in your face."
With changes coming to the taskbar in Windows 7, users are likely to arrange their running applications differently. Google appears to be taking advantage of this fact with the introduction of its own taskbar button that appears after you install Google Toolbar 6 for IE8. On many Win7 setups, including ours where we've tilted the taskbar vertically, the Google logo now situates itself right alongside Microsoft's, as if to say, "I'm here too."
And what is it there to do? Believe it or not, it can launch applications, in its dual role as an alternate Start button for Windows. Want to run Excel, for instance? Click on the Google button, type excel, then select the icon. Granted, Excel comes up as #2 on Google's list of retrievals, right behind a Google online search for the word "excel."
As is customary for Google, you can "opt out" of this feature if it's not useful to you, or redundant, though you do it through the Google Toolbar in IE. Look for the wrench icon, click on it, and under Search, uncheck Show in Taskbar. There, you can also opt out of another interesting feature that helps make IE8 look and feel…a lot more like Google Chrome.
Before Microsoft refreshed IE7 to include some content in its newly created tabs, they were essentially blank, functionless entities (they still are, in the latest stable release of Firefox 3.0.10). In IE8, new tabs are much more useful, enabling you to reopen tabs you closed before or may have closed accidentally, and also (most importantly to Microsoft) launch one of IE8's new search accelerators -- miniature Web services that can be utilized in other Web pages.
<!media id=3415 center>
Google would have you replace that feature with its menu of most visited Web sites, represented by snapshots from your most recent visit there. At least that's what's supposed to be shown; in our test of Google Toolbar 6 in IE8 running on Windows 7 RC, we couldn't visit any one site enough times for any site to be snapshot on this New Tab page. We also could not bookmark pages, either in IE8 or through Google's separate, online-supported bookmarks list, to make them appear in the Recent Bookmarks list on Toolbar 6. It would appear that Google has some work to do to make the new Toolbar function in Windows 7 once it's generally released this October.
With all this stuff we'd probably want to opt out of anyway, you may be wondering, why install Google Toolbar 6 in the first place? Having a replete search history, and being able to search videos or the patent database or Google News separately, are still common tasks for which shortcuts are much appreciated. Translating text between multiple languages quickly -- or even making an approximate guess of the translation -- is another very useful feature we tend to use every day. But that may be the point in the end: We use it every day now, without having upgraded to version 6. So our suggestion to Google may be to concentrate on Chrome as a tool for implementing changes to everyday work habits, and on Toolbar for refining the means by which users research information.