Gen-X childhood icons go boom, take the Internet with them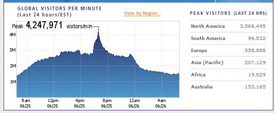 TV critic Alan Sepinwall asked Thursday afternoon, of no one in particular on Twitter, if this was the biggest double-celebrity-death day since Jim Henson and Sammy Davis Jr. both exited (May 16, 1990). And for a generation it sure felt like the world, or one's youth anyway, was coming to an end.
Or one's Internet connection, as the relatively muted testimonials to Farrah Fawcett Thursday morning gave way to moment-by-moment coverage of Michael Jackson's end in the afternoon -- from the photos a tourist on a tour bus outside Mr. Jackson's rental home snapped of the ambulance call to the avalanche of tweets from more or less everyone with ears as events unfolded. And the publication of record this time was <!external href="http://www.tmz.com/">TMZ.com -- an appropriate end, perhaps, for an artist who lived his life not just in the tabloids but in some fantasy of The Future, a place we suspect doesn't have newspapers.
And like Gen X, the Net wasn't ready for it. Twitter was hit so hard that it had intermittent problems even getting the Fail Whale up; the site simply disappeared for a few seconds. The services reported gusts of up to 5,000 tweets per second on Thursday afternoon. Facebook saw even more activity, reporting that traffic at one point tripled over usual levels. Google Trends tracked searches on "michael jackson died" and rated the volume after about 3:00 pm PDT as, simply, "volcanic." AIM, AOL's instant-messaging program, simply fainted for about 40 minutes; according to a company spokesperson, the service "was undergoing a previously scheduled software update which should normally prove routine.  It proved not to be." You don't say.
Mainstream news sites -- theoretically ready for everything from presidential elections to major disasters -- were visibly slower, with informal stopwatch tests on CNN, the BBC, the LA Times, and MSNBC showing front-page load times of as much as 20 seconds. <!external href="http://www.akamai.com/html/technology/nui/news/index.html">Akamai net usage stats indicate that traffic spiked by well over a million visitors per minute as the news unfolded.
TMZ crashed for a while on its big day. And uber-aggregator Google News was hit so hard the servers thought they were under DDoS attack: Some would-be visitors on Thursday reported getting an interrupt page saying that their query "looks similar to automated requests from a computer virus or spyware application." The visitor was presented with a CAPTCHA before he or she could proceed.
And <!external href="http://www.michaeljackson.com/">michaeljackson.com, which at this writing redirects to an interstitial page for the concert tour that was to begin on July 8, continues onward to the <!external href="http://community.michaeljackson.com/us/home">regular site, which states simply that "The official Michael Jackson site is currently unavailable."