'GeoHot' gets a shower, cleans up nice, reveals new iPhone 3G S jailbreak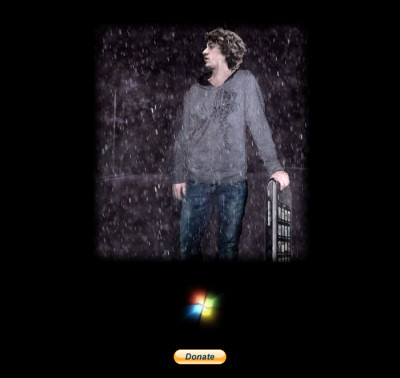 In a comically blatant display of bravado this morning, George Hotz -- who <!article id="1202488581">gained fame last year as the first to post an unlocking utility for the new Apple iPhone -- has unveiled a new utility that he claims enables iPhone 3G S users to download, install, and utilize the applications of their choice, outside of Apple's and AT&T's control.
In so doing, Hotz -- who uses the handle "GeoHot" -- publicly paraded his prowess in front of Dev-Team, the independent group of iPhone developers who had been racing to produce a similar tool for this latest model. Complete with poor punctuation and curious references to "holes," Hotz wrote, "Normally I don't make tools for the general public, and rather wait for the dev team to do it. But guys, whats up with waiting until 3.1? That isn't how the game is played. We release, Apple fixes, we find new holes. It isn't worth waiting because you might have the 'last' hole in the iPhone. What last hole...this isn't golf. I'll find a new one next week."
The <!external href="http://purplera1n.com/">Purple Ra1n tool is currently for Windows users only, though Hotz says a Mac OS X version is on the way. 3G S users need the latest edition of iTunes installed. Although this tool apparently will not go so far as to dissolve the bonds between the 3G S and the AT&T exclusive carrier (which was a key feature of Hotz' last tour de force), <!external href="http://www.crunchgear.com/2009/07/03/how-to-jailbreak-the-iphone-3gs/">a test by CrunchGear's John Biggs appears to verify that a relatively simple process may lead to 3G S users installing the apps of their choice.
Hotz' news came just hours after the Dev-Team, in its own blog, <!external href="http://blog.iphone-dev.org/post/130456145/24kpwn-lives-on-in-the-iphone-3gs">pleaded with its own loyal readers to wait just a little while longer. Its own Ultrasn0w tool (whose symbolism may also have been capitalized upon by Hotz' Purple Ra1n) is reportedly capable of being used with the 3G S without modifications, the team says, after having discovered that an exploit that affected the 3G's ROMs and led to its jailbreak-ability, can also be used with 3G S as well.
"This is great news, but how did it happen? Why didn't Apple fix this in their normal cat&mouse fashion?" <!external href="http://blog.iphone-dev.org/post/130456145/24kpwn-lives-on-in-the-iphone-3gs">the team asked rhetorically. "Well it seems this bootrom was cut in about the August 2008 timeframe, so the unintended early reveal of 24Kpwn earlier this year didn't affect the iPhone 3G S."
<!media id=3531 right>That being the case, Dev-Team may regret having made that announcement, which could conceivably have given Hotz time to respond and ace that latest "hole." However, it's apparent from his front page graphics that Hotz took some time to beautify himself, as the Purple Ra1n page today contains, besides the download link, a self-portrait worthy of a 1980s album cover. Suitable for framing, evidently. Pictured at right in 2008, a somewhat more youthful looking Hotz is seen here gazing unabashedly at CNBC correspondent Erin Burnett.