Sony's first netbook, the Vaio W: What goes around finally comes around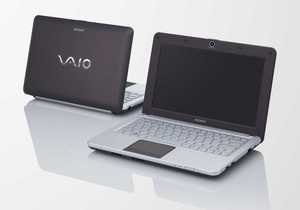 After <!article id="1235771086">all the noise Sony made about avoiding the term "netbook" with the release of its <!article id="1231573163">Vaio P ultraportable, and the <!external href="http://news.cnet.com/8301-10784_3-9879798-7.html">statements Senior Vice President Mike Abary made about the Eee PC before that, it was beginning to look like Sony was never going to release a device in the netbook/mini-note form factor. But that has changed.
Today, Sony officially launched its first netbook. The 10.1-inch Windows XP-based Vaio W runs on a 1.66 GHz Intel Atom N280, has 1 GB of RAM, and a 160 GB SATA HDD. It's equipped with 802.11b/g/n, Bluetooth, a built-in Webcam, and offers 1366 x 768 screen resolution -- higher-than-usual for netbook screens.
Unlike <!article id="1244123131">many other companies who are aligning with mobile broadband chipmakers and network operators to make their products truly mobile, Sony says the Vaio W is for use in the home as a secondary or maybe even tertiary computer.
To retain the traditional Vaio emphasis on multimedia, the W comes with Vaio Media Plus streaming multimedia software, which lets the netbook interact with DLNA-compatible household devices, such as a PC, PlayStation 3, or HDTV. But since it is a netbook after all, it is being touted less as a media portal, and more as a creature comfort.
The company paints the device as an Internet companion suitable only for the most superficial tasks. Sony's introduction of the Vaio W in Europe says, "While watching TV or reading a magazine, you've probably experienced the urge to look up something on the Internet that you've just seen or read but couldn't be bothered getting up to your desktop PC..." That's where the Vaio W is useful.
It's quite emblematic of Sony's attitude toward netbooks. The $999 Vaio P offers a smaller footprint, is equipped with GPS, mobile broadband, and the same Vaio Media Plus software mentioned earlier, but is absolutely not a netbook. The W, which Sony calls a "mini-note" in English language releases, and an "Internetbook" in Japanese language releases, is stripped of most of its mobility features and is being marketed as a mostly superfluous and unnecessary device. After all, Abary did say if netbooks caught on, "We're all in trouble. That's just a race to the bottom."
If you can be bothered to get up off the couch and buy one, the Vaio W will debut in August for $499, and can be pre-ordered at <!external href="http://www.sonystyle.com/pr/w">Sonystyle.com.