Is Google optimizing Chrome 3 for Windows XP netbooks?

---
Download Google Chrome 3.0.193.1 for Windows from Fileforum now.
---

Over the last few weeks, Google has been releasing development builds of its Chrome 3 Web browser in a fast and furious pace. And with each release, the browser has been leaping forward in performance, particularly in Windows XP. With yesterday's release of beta build 3.0.193.1, Chrome 3 has given Betanews reason to suspect that these performance gains are no accident.
But why would Google want to optimize its browser for Windows XP? The reason could lie with netbooks, the arena that Google seeks to invade with its own operating system, perhaps as soon as next year. Google may want to demonstrate its presence on netbooks early, and it might be able to do that by producing the best performing Web browser for netbooks in the interim.
In Betanews tests conducted yesterday, Chrome 3.0.193.1 had gained more than half a point in our performance index over the 3.0.192.1 build we tested just last week, on our physical Windows XP SP3 platform, with a record index score of 18.58. That gain alone is the equivalent of swallowing an extra 57% of the performance of Internet Explorer 7 in Windows Vista SP2, in just one week's time. This while the latest Chrome 3 build actually lost performance in the Windows 7 Release Candidate.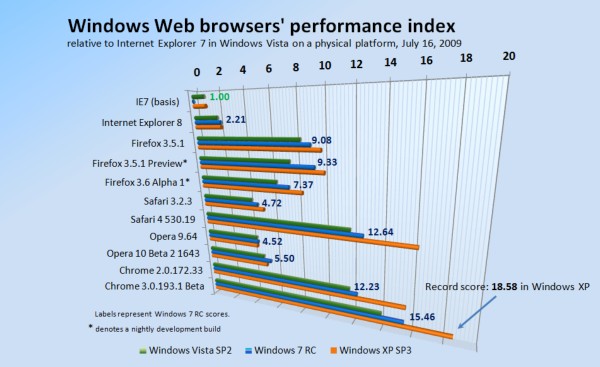 If Google is optimizing Chrome 3, it's clearly not for Windows 7. In fact, the gains it's making appear to be custom-made for XP. Specifically, Chrome 3's XP performance surged by as much as one-third over its previous build in the areas of Document Object Model management and AJAX handling, AJAX already being one of Google's strengths. There were some tradeoffs, particularly in complex math and page load speed, though they were not enough to offset these other impressive gains.
---
An updated word about our Windows Web browser test suite
---
Meanwhile in Windows 7 RC, Chrome 3 slipped from 15.85 in our index to 15.46. In Win7, the losses in math and page load speed did more than offset smaller performance gains in DOM and AJAX. And in Vista SP2, Chrome 3 overcame some earlier performance losses to regain almost a full point of performance, from 12.97 to 13.95.
A performance lead for Chrome on XP netbooks could give Google some early inroads into the netbook market, greasing its path, if you will, for a future Chrome OS onslaught. Windows XP remains the leading operating system on commercial netbooks in recent months, mainly because Vista won't fit; Microsoft promises Windows 7 will make a better fit, but OEMs may wait to see how much of a performance hit they'd have to incur. Although faster than Vista, Win7 remains slower than XP.
While Chrome 3 surges ahead, the Opera 10 Beta is trying to find its way. Yesterday Opera released the second round of its public beta 2, but without the Unite feature that makes browsers into servers. The company is saying it may not be ready for a full public beta round yet, although immediately after the public Beta 2 release, it produced a daily build of Opera 10 (build 1643) with Unite included. That's the version we tested yesterday, but we didn't notice much of a shift in Opera's performance profile: a 5.50 score in Windows 7 RC versus 5.43 for the previous daily build we'd tested.
Finally, after yesterday's early release of Mozilla Firefox 3.5.1, rushed out to address a major vulnerability that was discovered just a few days ago (let's face it people, Bugzilla tracks a zillion bugs, and just because this one was on there since July 9 doesn't mean it was exactly public knowledge), we wondered whether Mozilla had the opportunity to include some tweaks to JavaScript that it had originally planned for the 3.5.1 release.
Its logs say yes, yes, yes, but the performance profile says no, no, no. The new 3.5.1's performance profile is very much on par with the original 3.5, while our tests of earlier daily builds of 3.5.1 show measurable performance gains are still to be realized, particularly in TraceMonkey's handling of arrays in memory. Currently, the final 3.5.1 continues to post a very respectable index score of 9.08 in Windows 7 RC, a little lower than for the previous 3.5 but still sustainable in the wake of a major bug fix.
---
Download Mozilla Firefox 3.5.1 for Windows from Fileforum now.
---