Web-based solution for Palm Pre iTunes dilemma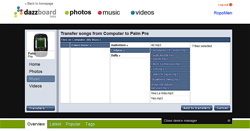 Since Apple terminated iTunes' compatibility with the Palm Pre this week, there have been a number of services that have rushed to the forefront to make sure users aren't left with an unsyncable Pre for too long. This morning, Web-based syncing service <!external href="http://www.dazzboard.com">Dazzboard announced its support for the Pre.
"We feel it is very unfair of Apple to penalize Palm and its growing Pre community, and we hope our free application will provide a solution for users are now left in cold due to Apple's decision," said Dazzboard CEO Tera Salonen.
Dazzboard does not require any desktop application to be installed, but does use a browser plugin which works with IE7, IE8 and Firefox 3.0 in Windows XP, Vista and Windows 7 RC. The service does not yet support Mac OS.
Dazzboard supports a <!external href="http://www.dazzboard.com/en/devices/">substantial list of devices, which is not limited to phones, it also includes Mp3 players by Sony, Phillips, Sandisk, and Creative, Digital Cameras, select PNDs by Garmin and TomTom, and the PlayStation Portable.
<!image id=3593 center>