Microsoft takes big hit: Q4 revenue falls for all product divisions

Microsoft closed fiscal 2009 with a whimper -- feeble performance not seen since the last recession in 2000-2001. Microsoft's fiscal year ended on June 30.
For fiscal fourth quarter, revenue fell -- often double digits -- for every Microsoft division: Client, Server and Tools, Business, Online Services and Entertainment & Devices. I can't recall the last time, if ever, there was such an occurrence.
Chris Liddell, Microsoft's chief financial officer, described the quarter's results as "disappointing," during a conference call late this afternoon. "Market conditions were certainly difficult in the quarter." That said, "there are some signs we have seen the worse," he said. Microsoft saw sequential Windows and Windows Server shipment gains for the first time in a year.
Actual Quarter and Year Results
For 2009 fiscal fourth quarter, Microsoft reported revenue of $13.1 billion, for a 17 percent year-over-year decline. Operating income: $3.99 billion, down 30 percent. Net income: $3.05 billion, or 34 cents a share. Net income fell by 29 percent and earnings per share by 26 percent year over year. If not for one-time charges, earnings per share would have been 4 cents higher.
Full fiscal 2009 fiscal year revenue was $58.44 billion, down 3 percent from fiscal 2008. Operating income reached $20.36 billion, down 9 percent. Net income fell 18 percent to $14.57 billion. Earnings per share fell 13 percent to $1.62.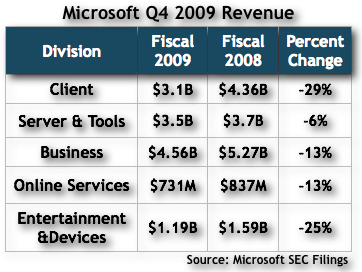 Wall Street consensus was $14.37 billion revenue for the quarter, or expected 9.3 percent year-over-year decline. Earnings-per-share estimate was 36 cents, for a 21.7 percent consensus decline. Wall Street consensus for fiscal 2009: $59.66 billion revenue, down 1.3 percent; $1.70 earnings per share, down 9.1 percent. By pretty much every measure, Microsoft missed analyst consensus for fiscal quarter and year.
Fiscal 2009 started off strongly but went to hell in the second quarter, following the late-September 2008 stock market crash. Uncharacteristically, Microsoft stopped giving guidance to the Street, starting in second quarter. The company also announced its first-ever layoffs during the second quarter earnings announcement, in late January. Layoffs continued in fiscal third quarter.
Today, Microsoft continued its recent trend of not offering guidance for upcoming quarters. Clearly, the company still sees the sales situation, exacerbated by the global recession, as too difficult to forecast. Microsoft did offer fiscal 2010 operating expense guidance of $26.6 billion to $26.9 billion.
It's Not Over Yet
Microsoft remains challenged. The CFO warned that the economic climate would remain difficult for at least the rest of the calendar year, which would be the first half of fiscal 2010. Liddell sounded more chipper on today's conference call than the last few. He told analysts of seeing "signs now of the bottom" of the economic crisis.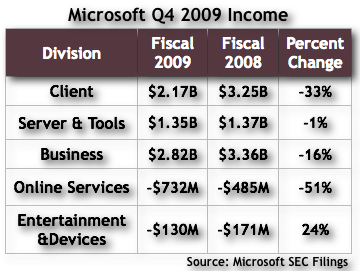 As I explained last week, Microsoft has not turned the corner. There are simply too many obstacles tearing away at its core business:
Sluggish PC sales (which hurt both big revenue products)
Tightened IT budgets (corporate and state-and-local government)
Smaller volume-license renewals (because of corporate downsizing)
Credit crunch (small-and-medium business loans for new technology)
That said, fiscal 2010 is chock full of new Microsoft products or services. During fiscal 2010, Microsoft expects to launch, among other products:
Windows 7 (October 22)
Windows Server 2008 R2
Windows Mobile 6.5
Azure Services Platform (during November developer conference)
Exchange Server 2010
Office System 2010
Whenever there is economic recovery, Microsoft will have a strong product portfolio to offer enterprise customers. However, Microsoft's strategy bets almost solely on businesses and the continued success of the Office-Windows-Windows Server stack. The company's mobile strategy is weak, as newcomers Apple and Google make dramatic smartphone sales gains and a newer mobile-to-cloud applications platform gains momentum.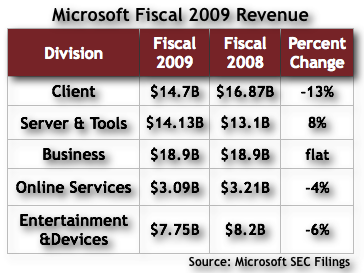 Segment Results
Once again, sluggish PC sales hurt big revenue products Office and Windows, but the operating system much more. Microsoft estimates that global PC sales declined 5 percent to 7 percent year over year.
Client. There is little good news coming from the Windows division in fourth quarter. Windows OEM unit growth fell 10 percent -- inconceivably by 3 percent to 5 percent more than PC unit declines. Increased piracy and stronger sales of PCs shipping with other operating systems, such as Mac OS, are likely factors. Microsoft identified another: OEMs buying fewer Windows licenses as they clear out excess PC inventory. Microsoft won't likely see a restocking boost until Windows 7 ships.
But bad news is worse. The mix of premium OEM SKUs fell 13 percent to 59 percent. OEM revenue fell 31 percent to $1.1 billion. OEM licenses account for about 80 percent of Windows revenues.
I blame netbooks, which I've described as a "menace" to Microsoft and Windows OEM margins. Microsoft said that non-netbook PC sales fell 16 percent to 18 percent. Microsoft estimates that netbooks made up 11 percent of PC sales. Netbooks are also pulling down average selling prices. According to NPD, at US retail, the Windows notebook ASP for June was $569 without netbooks but $520 with them.
For fiscal 2010 first quarter, Microsoft plans to defer between $1.1 billion to $1.3 billion in revenue until second quarter as part of the Windows 7 technology guarantee program. Liddell is hopeful about Windows 7. "We could see Client revenue grow faster than PC shipments by the end of the fiscal year," he said.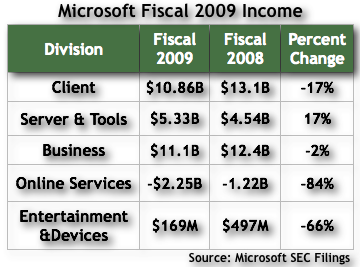 Server and Tools. For the second quarter in a row, the division's revenue exceeded Client. Server and Tools is Microsoft's most resilient against the econolypse. The division's quarterly year-over-year declines were less than most other product groups.
Server and Tools is somewhat insulated from slowing hardware sales, because of the high percentage of annuity license sales to businesses. That said, sluggish server hardware sales sapped revenue gains.
Business. The Office division had until this quarter largely resisted the downward pull of global recession. Major reason: Businesses buying annuity licenses. But revenue from businesses fell 10 percent, or by $413 million, largely because of volume-license agreement declines. These declines don't necessarily indicate fewer renewals. Corporate downsizing and layoffs mean many businesses will renew fewer licenses.
Consumer revenue plummeted 30 percent, or by $289 million. Microsoft blamed the sluggish PC market. Businesses account for about 80 percent of the divisions' sales and consumer 20 percent. Office accounts for about 90 percent of Business division revenues.
Online Services. Online advertising revenue declined by 14 percent, or $86 million, to $529 million. Microsoft said that the number of unique visitors has increased 15 percent since Bing's launch. Bing Shopping increased by three times and Bing Travel by 90 percent -- both since the new search engine's launch.
Entertainment & Devices. Microsoft reduced the division's losses mostly through cost containment rather than sales gains. For example, Microsoft reduced sales and marketing expenses by 30 percent, or $107 million.
The division shipped 1.2 million Xbox consoles during the quarter, down slightly year over year. Mediaroom and Zune primarily contributed to a 42 percent, or $291 million, decline in non-gaming revenue. PC gaming revenue, also affected by the sluggish PC market, fell 12 percent, or by $110 million.