U.S. Marine Corps bans social networks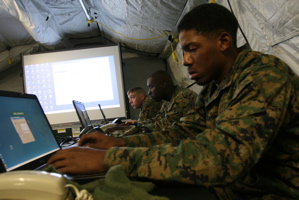 Claiming that sites such as MySpace, Facebook, and Twitter pose a "haven for malicious actors and content," the United States Marine Corps has instituted an immediate ban on social networking sites for soldiers and officers using the Marines' internal network.
According to <!external href="http://www.marines.mil/news/messages/Pages/MARADMIN0458-09.aspx">a notification issued yesterday, the Marine Corps says social networking sites put the military at risk of "information exposure, user generated content and targeting by adversaries" and that they "expose unnecessary information to adversaries and provides an easy conduit for information leakage that puts [Operational Security], [communications security], personnel, and [The Marine Corps Enterprise Network] at an elevated risk of compromise."
The ban follows the Department of Defense's <!external href="http://www.redorbit.com/news/technology/1730213/dod_to_investigate_use_of_social_media/">investigation into the use of social media, which tested their potential to unnecessarily consume bandwidth or reveal secret information.
Ironically, the Department of Defense's site <!external href="http://www.defenselink.mil/">uses social media extensively, with its own Facebook page, Flickr photostream, and Twitter feed.