Owner of Office.com trades its URL to Microsoft, perhaps for Outlook features

Since at least 1999, the lucrative Web URL Office.com has been registered to someone other than Microsoft, the company most closely associated with that term with regards to software. Most recently, Office.com wasn't owned by any cybersquatter, but by ContactOffice Group -- a very legitimate Belgian company which used the URL to establish a virtual e-mail client accessible through desktop and mobile Web browsers.
Late last June, Office.com's clients received e-mails from ContactOffice notifying them that their accounts will be moved to the contactoffice.com domain at the end of July. There's only one really good reason why a company would move from a ubiquitous trademark to an arguably more obscure one; and today, the logic behind that reason was confirmed by the Internet's string of WHOIS databases: Microsoft is now the official owner of the Office.com domain.
The most likely purpose Microsoft has in mind for Office.com is as a hosting platform for Office Web Apps ("Office.com Web Apps?"), the Web-accessible versions of Office applications that Microsoft plans to make available to registered Office 2010 users next year. Testing for that platform is expected to begin soon.
The common presumption is that Microsoft paid ContactOffice a tidy sum for the URL, which neither company is likely to confirm. But as Betanews noticed this morning, a demo of the beta for the next edition of ContactOffice.com suggests the Belgian firm may have gotten something else out of the deal besides money: The new AJAX-based interface for the messaging service looks a lot more like Microsoft Outlook than its current stable edition.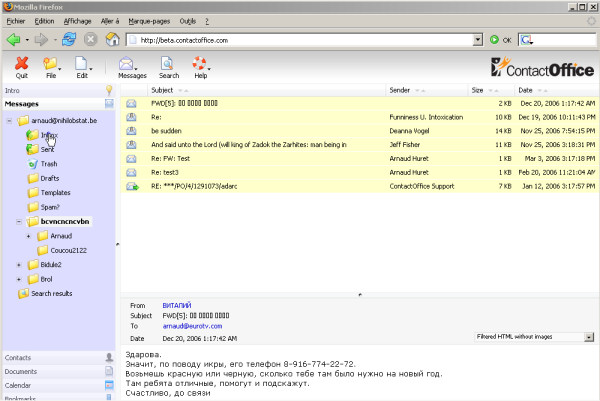 Product information for the current edition suggests a simpler layout for on-screen menus, more similar to Zoho Apps. But the new ContactOffice features departments that have their own sliding menu panels, like the left pane of Outlook, and new folder arrangements (for ContactOffice) that also resemble Outlook's layout. With AJAX enabled, users can now right-click on both tools and list entries, such as messages, to get a context menu; previously, since Office.com ran in a browser without AJAX, those entries had to be made visible on the main screen, so an Outlook-like layout was not feasible.
It's curious that ContactOffice should begin implementing an Outlook look- and work-alike at the same time it cedes control of its Office.com domain to Microsoft.