Mozilla chief: Microsoft ballot screen leaves IE 'uniquely privileged'

In the first comprehensive statement representing Mozilla's viewpoint on the issue of Microsoft's compliance with the European Commission's recent Statement of Objections, Mozilla Foundation CEO Mitchell Baker wrote earlier this week that a "ballot screen" giving Windows 7 installers the option of setting up Firefox or another browser instead, is not enough to level the playing field. Internet Explorer, Baker fears, will continue to received favored placement elsewhere in the system, including on the desktop and the taskbar.
"Choosing another browser as a 'default' does not mean that the other browser takes the place of IE," Baker writes. "For example, the IE logo ('shortcut') still remains unchanged on the desktop. The shortcut / logo of the browser the user has selected does not replace this, it is added elsewhere. As a result, the familiar location remains IE, not the user's choice."
Baker's comments come in response to Microsoft's suggestions to the European Commission about how it can best comply with the lawmaking body's demands -- suggestions which await the EC's formal response upon return from summer vacation. Those suggestions, as far as we know, have not included actual software demonstrations, but rather screenshots of mockups of how such a ballot screen may be presented.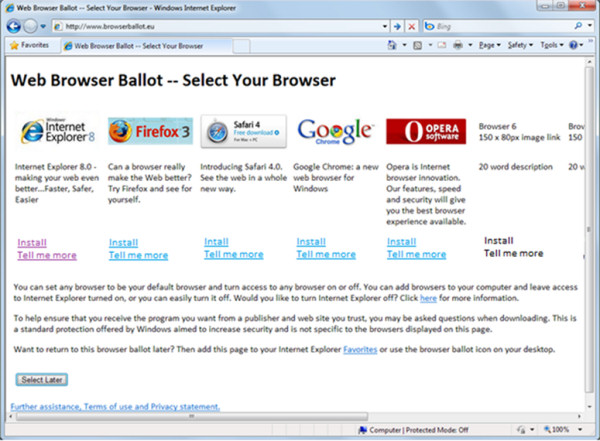 Indeed, one of those screenshots as presented publicly by Microsoft itself does show an Internet Explorer logo adorning the title bar of the window where the browser screen appears. Although this screenshot does not necessarily depict how the end result of Microsoft's work might appear, if the company left a few too many of these little logos in its other screenshots presented to the EC -- for instance, in the taskbar or on the desktop -- it might have left holes for its own arguments, holes that Mitchell Baker and others are already discovering.
"Even if everything in the currently proposed settlement is implemented in the most positive way," she writes, "IE will still have a unique and uniquely privileged position on Windows installations."