Windows 7: Don't upgrade, says FSF, your civil rights are in jeopardy

If you're collecting reasons people have given for avoiding Windows 7 purchases and upgrades, add this one in a little shelf all to itself: It is a threat to your civil liberties, according to the Free Software Foundation.
Today is the official launch day of an FSF fundraising campaign whose stated goal is to bombard employees of 499 of the world's Fortune 500 companies (the one they left out probably wouldn't make any difference) with letters claiming, among other assertions, that Microsoft is engaging in a clandestine spy operation, masquerading under euphemistic names such as "Windows Genuine Advantage" (one example the FSF lists), invading homes, offices, and even schools.
The goal of this empire of evil, FSF claims, is no less than the indoctrination of the world's many citizens into believing that only Microsoft's software should be installed on computers.
"Today, most children whose education involves computers are being taught to use one company's product: Microsoft's," reads a manifesto posted this morning to the FSF's new Web site, Windows7Sins.org. "Microsoft spends large sums on lobbyists and marketing to corrupt educational departments. An education using the power of computers should be a means to freedom and empowerment, not an avenue for one corporation to instill its monopoly."
Unable to spend large sums for itself, the Foundation asserts it must rely on public donations to be able to reach "the Windows 7 decision makers" at the world's Fortune 499 companies, preferably in $25 increments for every 50 letters sent. Those letters, presumably, will be delivered using the medium of communication it feels best suited to reaching these individuals: conventional postal mail.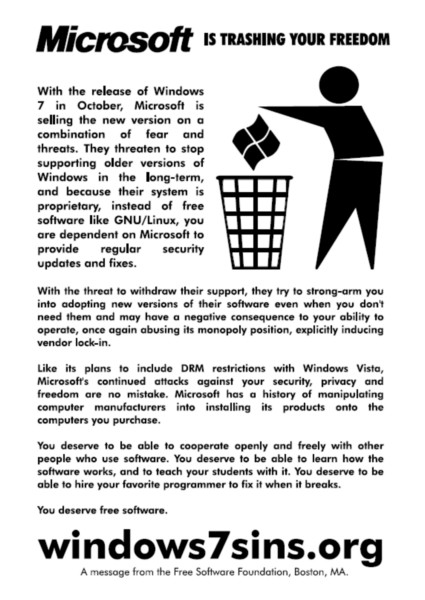 Those who cannot be reached through the mail may perhaps be attracted, the FSF hopes, to paper flyers that individuals may choose to hand out in public places, or attach to surfaces where passers-by may happen to notice. More sophisticated computer users these days may be attracted to the FSF's embeddable widgets and icons, which it is making available freely today.
In a statement this morning, FSF Executive Director Peter Brown argued that free software, unlike Microsoft software or anything with a price tag, respects individuals freedoms and does not extend the tentacles of the global spy syndicate. However, he did effectively blame users, not Microsoft, for an apparent psychological defect that results in them paying money for software: "Our growing dependence on computers and software requires our society to reevaluate its obsession with proprietary software that spies on citizens' activities and limits their freedom to be in control of their computing," Brown stated. "There is free software available right now for any activity you or your business needs, and it is better in the most important aspect -- it respects your freedom."
A public gathering in opposition to Microsoft's evil plot was scheduled for noon today at Boston Common.