Tough luck iTunes 9, Zune 4 rocks

Nine is supposed to be greater than four. But when it comes to iTunes 9 and Zune 4, four is more. You disagree? That's what comments are for.
Microsoft released highly anticipated Zune 4 software today -- New Music Tuesday -- one week after Apple debuted iTunes 9. Zune HD also is available today, but I don't have the music player for testing.
I downloaded the software twice, because of a glitch. The download page offers 32-bit and 64-bit Zune 4 versions. I clearly checked 64-bit, but got the 32-bit version instead. The 64-bit Zune 4 is available here.
My test machine is a Sony VAIO VGN-Z720, with 2.53GHz Intel Core 2 Duo processor, 13.1-inch LED backlit display with 1,600-by-900 resolution, 256MB nVidia GeForce 9300M GS graphics, 4GB of DDR3 memory, 320GB hard drive (7200 rpm), dual-layer DVD burner, fingerprint reader, WiFi and Verizon EVDO modem. The computer came with Windows Vista Business 64-bit, which I easily upgraded to Windows 7 Ultimate 64-bit.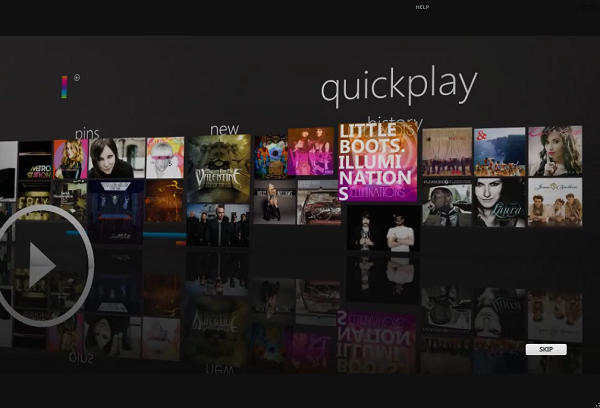 The new Zune 4 splash screen.
Microsoft's official Zune 4 system requirements don't list Windows 7, but I easily installed the software, which runs just fine and considerably faster than Zune 3.
Microsoft has done much to refine its Zune software, which with version 3 raised the elegance but lowered the bloat. By comparison, iTunes is now bloatware; over nine releases Apple persistently traded simplicity for complexity. Forgotten is the simple joy, the simple process of plugging an iPod into a computer and having it sync -- with no prompts or other interference. Starting with version 8 and extended with 9, iTunes is full of clutter. Perhaps clutter is the new Apple fashion -- that and the aggressive sales pitch. Apple Genius is constant salesman, nagging users to buy more, more, more. Where Apple reduced clutter is laughable: Imitating Microsoft. With v9, iTunes Store better presents artist bios, but oh-so reminiscient of Zune Marketplace.
But enough ragging on Apple bloatware. The topic is Zune 4. I'll start with the marketing, which is Apple-like but better. From the Zune Website:
Browse music, not spreadsheets. If you're tired of online music buying feeling more like a bank statement than a record store, you're in the right place. Zune 4.0 software is free, beautiful, and browsable.
Microsoft could have made the same marketing claims about Zune 3, which dramatically changed from its predecessor. Zune 4 is more evolution than revolution, with many refinements geared to Zune HD and, with an update, Xbox 360. My favorite: The new mini-player. Windows Media Player has sported a mini-player for years, as has iTunes. The Zune 4 mini-player whips them both. It's functional and pretty, with album cover overlaying band photo.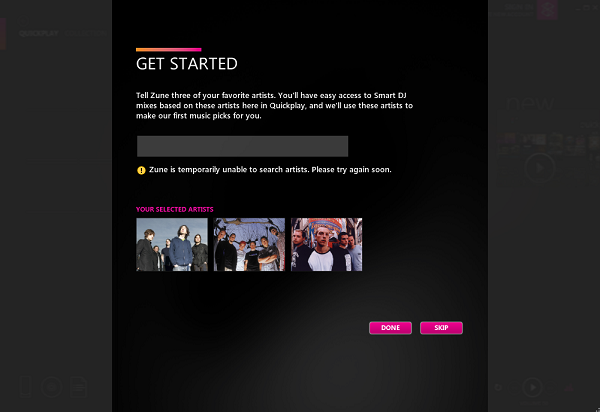 During Zune 4 set up, the user chooses three favorite bands.
For all Zune 4 offers more than iTunes 9 -- mostly by giving less -- the Zune Marketplace doesn't offer enough. This morning, I eagerly signed up for a Zune Pass subscription. I started by searching for Snow Patrol, for which there are three albums and one deluxe single EP. By comparison, Apple sells three albums plus deluxe variants, four EPs and several live singles. For No Second Troy, Zune Marketplace has one EP, while iTunes also has two albums and three singles. For other bands, such as Carolina Liar, Ra Ra Riot, Sum 41 and Ting Tings, Zune Marketplace selection is good enough. But it's not better than iTunes.
Apple's music software and store has long exceeded Zune software and marketplace for music discovery. But Microsoft has hugely improved discovery, without getting in your face like Apple's Genius does. Microsoft skins Zune 4 with Quickplay, which is the new default opening screen. Here, end users can see:
Pins -- three favorite artists, first picked when setting up the software (I randomly chose Coldplay, Linkin Park and Snow Patrol)
New -- fresh tracks or albums added to the Zune collection
History -- recently played music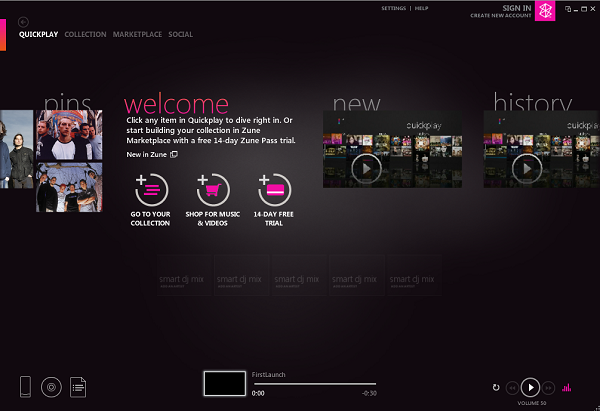 Quickplay is Zune 4's new music discovery start-up screen.
The approach is surprisingly familiar. Another section, "Welcome," quickly gets the user to his or her collection or to the Zune Marketplace; it's one click, baby. Quickplay also links to "Smart DJ," another new feature. Smart DJ has the smarts iTunes's Genius lacks. Where Genius lacks good social skills -- when enabled, it nags for you to buy something -- Smart DJ comes when summoned. The feature generates related playlists to the select music.
For Zune Pass subscribers, Smart DJ is music discovery on steroids, but without those nasty side effects. Microsoft's software streams related music not in the Zune collection from the Marketplace -- or it can be downloaded as part of the $14.95 monthly subscription fee. Apple's Genius makes suggestions from the iTunes library or content from the music store. With Smart DJ, your library is as big as the Zune Marketplace subscription catalog. Simply put, the feature rocks.
Smart DJ is available pretty much from anywhere Zune software/service catalogs music, whether on the PC or Zune Marketplace. Mixview also gets similiar extended reach. The mosaic-of-related-music feature is much more useful now.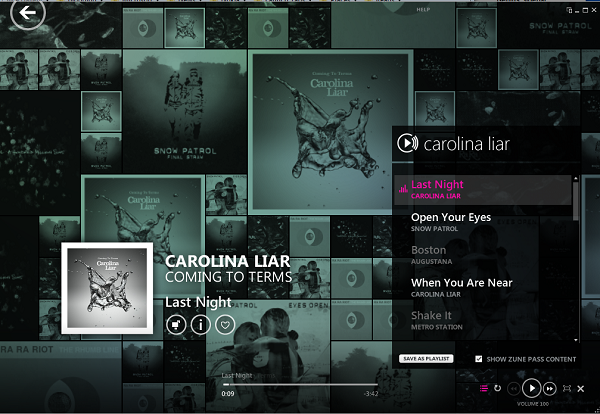 Smart DJ works best with Zune Pass subscription.
Windows Media Audio isn't something Microsoft would give up, but its role is somewhat diminished. By the default Zune 4 setting, music is ripped as 192Kbps Mp3, rather than 128kbps WMA, but I bumped it to 256Kbps. The iTunes 9 default setting is 256Kbps AAC.
Subscription content remains 192Kbps WMA, because of the DRM. I find Microsoft's WMA encoding to be superior sounding to Apple's AAC. I distinctly can hear a difference, which is more pronounced when iTunes' graphic equalizer is enabled. To my aging ears, Apple's encoding boosts the bass and clips the highs. I hear much more detail in WMA tracks than Apple's ACC but with less punch.
If there is a graphic equalizer, I couldn't find it. Windows Media Player has one -- and, of course, iTunes. It's a shortcoming, damn it.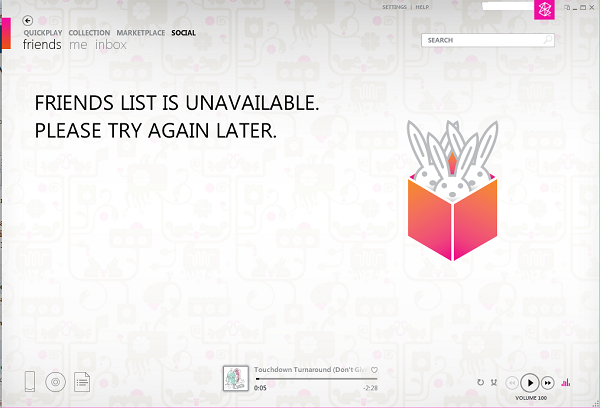 Zune 4 error message goes cute.
There are other changes related to Zune content I'll let be for another post. They're better addressed in a discussion about Zune HD. As I will explain later, Zune HD is Microsoft's last stand against iPod touch, which could someday be more important to Apple's mobile platform than iPhone. Microsoft can extend its gaming heritage around Xbox 360 to Zune HD and later to a Microsoft Phone, whether made by the company or partner(s). But there are barriers, such as distribution limited to United States, that Microsoft must remove first.
Again, that's a later post. For this one I'll conclude by praising Microsoft for a job well done. Zune 4's elegance sets it apart from most software that most people use everyday. It's a model for good user interface design. Smart DJ is another reason for everyone to consider Zune Pass, and integration and discovery features are superbly executed. If fat is where you're at, stick with iTunes. If not, Zune 4 is more by being less.