WiMAX not living up to customers' expectations

In the midst of my own Comcast outage today, I began to contemplate the alternatives to my current cable Internet connection and the satisfaction of customers elsewhere. Being a Baltimore native, I'm fortunate enough to have a number of options at my disposal, including WiMAX. It's a technology that I've frequently covered here at Betanews, and one which we've been following for a long time.
For a little while, we had a WiMAX connection in our headquarters and I was using it without even being aware of a difference. I probably wouldn't have even found out if Nate hadn't asked me what wireless network I was connected to one day and informed me that it was actually our Sprint/Xohm WiMAX test line.
Unfortunately, WiMAX users in the rest of the US are acutely aware of their connection, DSLReports noted this week. Sprint's joint WiMAX partner Clearwire has launched networks in Oregon, Washington, Idaho, Georgia, Nevada, and Texas; and users from each of these areas has expressed disappointment on DSLReports' forums.
Even though we'd get a consistent 2 Mbps downstream signal from our Baltimore WiMAX network, A number of Clearwire users are reporting much lower speeds and much more inconsistent coverage. Have a look at some of the Speed Tests that users submitted: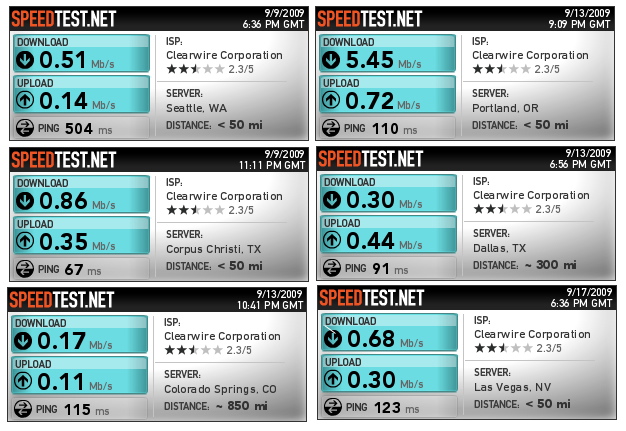 These speed tests came from users on their home networks, which Clear.com says has average speeds of 3 to 6 Mbps with bursts over 10 Mbps (with the very clear caveat "Actual Performance May Vary.")
Some users report solid speeds in Atlanta, Amarillo, and Las Vegas, but users with poor connections and low speeds are certainly speaking out more vociferously.
How's your connection?