Google Sync brings push Gmail to iPhone, WinMobile, S60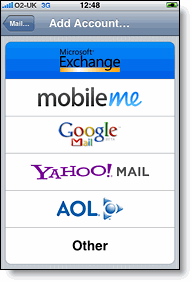 Today, Google has announced that Gmail push updates have been added to Google Sync, the Microsoft Exchange ActiveSync-based tool that lets BlackBerry, iPhone, Symbian S60, and Windows Mobile devices to share calendar entries and contact info with a user's Web-based Google account. The service, which <!article id="1234205047">debuted in beta earlier this year, automatically pushed Gmail inbox content to the synched phone's native e-mail reader.
This announcement comes as good news for iPhone users who have, until now, had to pay for push Gmail updates by including it in their MobileMe subscription, or by paying for apps like PushMail or G-Push Mail. But it's also especially unfortunate for Tiverias Apps, makers of GPush for iPhone, an application which received <!external href="http://www.techcrunch.com/2009/07/13/a-workaround-for-the-gmail-push-workaround/">a considerable amount of attention in mid-Summer, but didn't get approved until August, and has only been available in the App Store for a month and a half.
The setup, however, is <!external href="http://www.google.com/support/mobile/bin/answer.py?answer=138740&topic=14252">not exactly straightforward. To set up Google Sync on the iPhone, users must have iPhone OS 3.0+, and then add a mail account under "Microsoft Exchange," and not "Google." From here, the user adds his Gmail account name and password, and selects m.google.com as the server.