Mac fanboys should get a life and some Windows 7 common sense

I have to laugh at the sudden, slew of Mac bloggers taking swings at Windows 7 and asserting that Macs will continue to sell well after Microsoft's newest OS ships. Feeling a little defensive are we, bros? Their reaction shows worry that the thing they profess against -- surging PC sales that swamp Macs -- may yet be reality.
Windows 7 is simply Microsoft's best operating system ever. Mac fanboys should worry and circle together in defensive posture. Collectively, they're making a last stand against the PC giant. Please, please, boisterous Mac defenders, stand in the front lines and receive the first blows. You deserve them.
Mac market share actually means little to Microsoft, although it sure matters lots to Mac bloggers thumping for Apple. The little dog barks, but the big dog -- with its enormous market share -- has the bite. Windows 7 is a new set of teeth. (I'll explain what competitors really matter to Microsoft after the subhead.)
The Apple fanboy crowd snipes against Windows 7 and stresses the over-importance of all things Mac. Some of the assertions about Macs or Windows 7 sales are laughable, they're so ridiculous. For example, today, Apple 2.0 blogger Philip Elmer-DeWitt asked: "Will Windows 7 boost Apple sales?" Philip writes that "over the past decade, Mac shipments have grown with nearly every new Microsoft release," based on research released by Broadpoint AmTech yesterday.
That's not what the data shows. The biggest increase in Mac sales follows the release of the much-maligned Windows Vista. The data supports what is widely known: Vista was a Windows failure. As for the other spikes, supposedly associated with Windows releases, Occam's Razor dictates that something Apple did and not Microsoft affected Mac sales. For example, the chart shows a huge spike in Mac sales for second quarter 2000, noting that Microsoft released Windows 2000 on February 17. But it ignores something else. A day earlier, Apple unveiled new Power Macs, finally reaching the long-delayed 500MHz processing power milestone and setting off a sales surge.
Another date: Oct. 25, 2001, and the launch of Windows XP. The chart shows level Mac sales for the quarter and a substantial decline for the one following. In July 2001, Apple introduced dual-processor Power Macs, and accordingly there was a two quarter spike in Mac shipments. Philip asks a silly question, and the chart is more reasonably explained by Apple actions, not Microsoft's.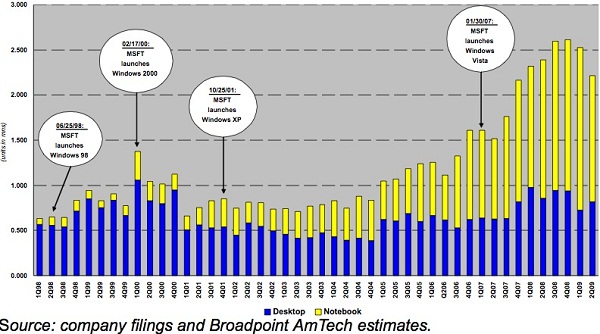 Over at Apple Insider, Neil Hughes continues the Broadpoint AmTech misinformation, also referring to Philip's post. Several other blogs or news sites also reported on Broadpoint AmTech numbers, some of them yesterday.
Mac fanboys have also attacked verteran tech reviewer Walt Mossberg's fairly favorable review of Windows 7. Perhaps they feel betrayed, as Walt has favored Macs for years -- and for good reasons in the post-Vista era. But go back a decade and you'll find Walt to have been less charitable towards Apple.
Assessing the Real Competition
Microsoft's competitive problems aren't Macs but:
Windows XP
Software pirates
Netbooks
Windows XP. Windows 7's biggest competitor will be Windows XP, which runs on about 80 percent of PCs, according to combined analyst reports. Microsoft's first challenge will be getting XP users to move up to Windows 7. Mac market share was 7.6 percent in the United States in second quarter, according to IDC. (Gartner and IDC should release Q3 preliminary numbers in the next couple of days.)
Mac share is inconsequential to Microsoft compared to Windows XP. My prediction: Windows 7 will slow Mac share gains, which already declined over the last three quarters, according to both Gartner and IDC.
Software pirates. Collectively, software pirates pose the greatest competitive threat to Microsoft, next to Windows XP. Not Macs. Certainly not PCs running Linux. According to Business Software Alliance, software piracy rates are highest in emerging markets, which also are where potential Windows PC adoption is greatest: 85 percent in Latin America, 66 percent in Central and Eastern Europe and 61 percent in Asia Pacific. By comparison, piracy rate in North Americs is 21 percent and 35 percent in the European Union. So in Latin America, more than 8 out of 10 copies of software in use are stolen.
Here's a loaded question: How many people among the Betanews community use software for which they didn't pay for, even though the developer charges something? Anyone care to respond in comments? Maybe this is easier: What do you feel you should have to pay for software?
More significantly, software piracy creates competitive opportunities for Macs, because of the damage done to the Windows brand. In a report released last week, BSA revealed a direct correlation between online software piracy at torrents and other file-trading sites and malware infections. Countries with high online piracy rates also have high malware infection rates. Related, 25 percent of a sampling of 98 sites distributing pirated software or digital content also contained malware. Where does the blame fall when PCs are infected with viruses? On Microsoft and Windows, which tarnishes the brand and helps foster popular folklore that Macs are more secure than Windows. Macs have problems, too, but they're not always as well publicized.
Netbooks. Microsoft also faces more competitive threat from netbooks, which are gobbling up Windows margins at an alarming rate. Microsoft makes substantially less on each Windows XP Home license shipping on netbooks than it does on either Windows Vista Home Basic or Premium.
During second calendar quarter, when Windows Client revenue fell 29 percent year over year and income declined 33 percent, netbooks made up 11 percent of PC sales, according to Microsoft. Microsoft Chief Financial Officer Chris Liddell acknowledged that the increase in lower-margin consumer Windows licenses -- fed in part by increasing netbook demand -- contributed to declines.
Last week, DisplaySearch updated second calendar quarter PC shipment data. DisplaySearch concluded that netbooks accounted for 22.2 percent of overall PC sales and 11.7 percent of revenues. Netbook sales jumped a staggering 264 percent year over year, while overall laptop sales (without counting netbooks) declined 14 percent.
Meanwhile, increased netbook sales exerted ever greater pull downward on average selling prices. Laptop ASPs fell to $688 in second quarter from $704 in first quarter and $849 in Q2 2008. Netbook prices fell to $361 from $371 and $506, respectively, during the same time period. Microsoft has lots more to worry about than Macs, particularly netbook cannibalization of the PC market and the negative impact on Windows margins.