Apple Q4 2009 by the numbers: Beats street, posts $1.67B profit

[Editor's Note: Post was updated with quotes from Apple financial analysts conference call and four charts at 6:20 p.m. EDT.]
Today, Apple delivered yet another gravity-defying performance, as sales surged across most product lines. After the bell, the Cupertino, Calif.-based company announced fiscal 2009 fourth quarter results that beat its guidance and Wall Street analysts' over-inflated consensus.
Apple reported $9.87 billion revenue and net profits of $1.67 billion, or $1.82 a share. A year earlier, Apple reported revenue of $7.9 billion and $1.14 billion net quarterly profit, or $1.26 per share.
Three months ago, Apple forecast revenue between $8.7 billion and $8.9 billion, with earnings per share ranging between $1.18 cents and $1.23. Analyst estimates were much higher than Apple guidance: $9.2 billion average revenue consensus and $1.42 earnings per share. Still, Apple blew past the Street.
It's unclear to me from a cursory review of the earnings how much deferred revenue contributed to the quarterly results. Currently, Apple defers some iPhone revenue for 24 months. The company recognizes a portion of the revenue every quarter. In the year-ago quarter, Apple deferred $3.5 billion in revenue from Apple TV and iPhone.
During a conference call with financial analysts today, Apple CFO Peter Oppenheimer described the results as the company's "most profitable quarter ever," including record iPhone and Mac sales. Mac shipments grew 17 percent year over year. Portables represented 74 percent of Mac sales, he said.
For fiscal 2010 first quarter, Apple forecasts between $11.3 billion and $11.6 billion in revenue, with earnings per share ranging between $1.70 and $1.78. Apple projects gross margins to be about 34 percent. In the comparable 2009 quarter, Apple revenue was $10.17 billion and $1.61 billion net quarterly profit, or $1.78 per share.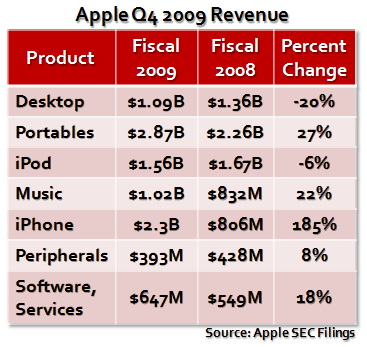 Segment-by-Segment Results
iPhone. Wall Street carefully watched the quarter, because of several important trends, including sales of new iPhone 3GS and late-quarter releases of Mac OS X "Snow Leopard" and new iPod models. Fiscal fourth quarter is the first full one with iPhone 3GS and discounted iPhone 3G sales. The latter product sells for $99, a price point many analysts claim would boost sales volumes. The iPhone 3GS added features lagging behind many other handsets -- even non-smartphones -- such as video recording and MMS (the latter capability is also available on older iPhones loaded with 3.x firmware).
Days before the earnings announcement, with many analysts forecasting big iPhone sales, Oppenheimer & Co analyst Yair Reiner dropped a caution bomb: He estimated that, based on Apple's September 9th disclosure of 3.5 million iPhones sold for the quarter so far, shipments would fall short of analyst predictions of about 7 million units. Reiner attributed potentially slower-than-expected sales to demand exceeding supply. [Editor's note: Oppenheimer & Co. should not be confused with Apple CFO Peter Oppenheimer; the names are coincidental.]
For most of the quarter, "demand outstripped the supply," Apple COO Tim Cook told financial analysts today. He estimated that Apple ended the quarter with more than 2 million iPhone units in inventory. "I would have liked to have had more," with Apple starting sales in China on October 30th, he emphasized.
Apple shipped -- what company executives really mean by sold -- 7.4 million iPhones worldwide. Apple shipments into the channel are usually several million units higher than numbers released by Gartner, which measures actual sales. Shipments exceeded analyst consensus, despite supply problems. Oppenheimer described the reception to iPhone 3GS as "tremendous." Apple distributed iPhone 3G in 80 countries and 3GS in 64 countries. The company expects to offer iPhone 3GS in 80 countries by year's end.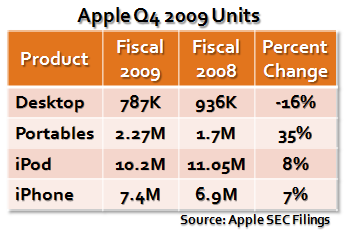 For the quarter iPhone revenue was $2.3 billion, up from $806 million a year earlier, for 185 percent year-over-year increase. Oppenheimer said that the value of iPhones sold was "$4.5 billion." The iPhone average selling price for the quarter was $600, on a "high mix of the 3G sell through," Oppenheimer said. Consumers pay less, because AT&T subsidizes the price. He reaffirmed the recent 85,000 number of applications in App Store and 2 million downloads.
Coming into today's earnings announcement, there were some ridiculous blogs and new stories inflating iPhone's global presence. For example, last week, Silicon Alley Insider used data from RBC Capital Markets to assert that 30 percent of smartphone owners have an iPhone. The figure contradicts Gartner and IDC data. For example, for second quarter, Gartner put Apple's worldwide smartphone share at 13.3 percent. Even if the 30 percent figure were true, it's for a very small market. In Q2, manufacturers sold 286.1 million handsets, of which only 40 million were smartphones, according to Garner. Whether 13 percent or 30 percent of 40 million, it's a small number in a market 7 times larger in total.
Computers. Mac sales continued to defy the economy's downward pull. Apple shipped 3.05 million Macs during the quarter, up from 2.6 million Macs in fiscal third quarter and fiscal Q4 2008. As viewed separately, Mac desktop shipments declined 16 percent year over year, while laptops increased 35 percent. Combined, Mac shipments grew 17 percent year over year. Apple had its best back-to-school buying season ever, Oppenheimer said.
Last week, analyst firms Gartner and IDC split on Mac shipments. In the United States, Gartner said that Apple shipped 1.572 million Macs, up 6.8 percent year over year. Market share rose to 8.8 percent from 8.7 percent in fiscal third quarter and from 8.4 percent in fiscal Q4 2008. By comparison, IDC said that Apple shipped 1.64 million Macs, an 11.8 percent year-over-year increase. IDC put Apple's US share at 9.4 percent, up from 7.6 percent a quarter earlier and 8.6 percent in fiscal Q4 2008. Both analyst firms ranked Apple fourth in US market share. Worldwide, IDC puts Apple at No. 7.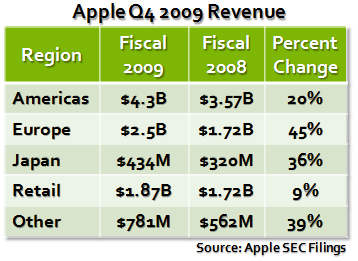 "What's Next?" matters more for Macintosh than "What's Now?" On Thursday, Microsoft will officially launch Windows 7. Best Buy already has new systems on display (but not for sale), and Dell is taking orders. The expected Windows 7 marketing blitz -- and the PC industry's desperation to boast sales pulled down by the econolypse's gravity -- will be big for Holiday `09. Apple won't easily compete ad-for-ad, but may hold surprising sales promise. Based on Gartner and IDC data for the last three quarters, low-cost netbooks are driving Windows PC shipments. It's a segment where Apple doesn't compete. In fact where Apple does compete -- the $1,000-plus computer -- Mac US retail market share exceeds 90 percent.
iPod. Apple shipped 10.2 million iPods during fiscal fourth quarter, flat from 10.2 million a quarter earlier and 11 million in fiscal Q4 2008. On September 9th, Apple released new iPods, including a new nano with video recording capabilities. Apple also lowered the entry-level iPod touch price to $199, albeit for a device with only 8GB of storage. The $299 model has 32GB of storage, by comparison.
Apple is putting more emphasis on iPod touch, which is the other leg on which stands the App Store platform. Apple claims more than 50 million lifetime iPhone and iPod touch sales. By comparison, iPod nano sales are sluggish.
Retail. Oppenheimer said "the stores had a record quarter." Apple opened 15 new stores during fiscal fourth quarter, for a total of 273. Average revenue per store was $7.1 million. As a segment, retail revenue rose 9 percent year over year and 25 percent sequentially. Retail revenue topped $1.86 billion.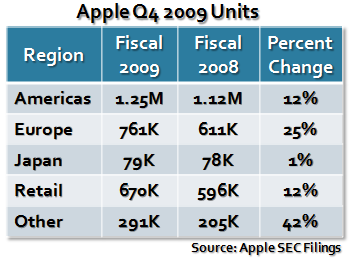 Fall Into the GAAP
For this quarter, it is somewhat necessary to look at Apple's GAAP (Generally Accepted Accounting Principles) and non-GAAP performance. Apple officially started reporting earnings in GAAP and non-GAAP fashion in the year-ago fiscal quarter. Based on GAAP rules, Apple had to spread out some iPhone and iPod touch revenue because of subscription accounting rules. Apple deferred revenue to be realized in subsequent quarters. However, in late September, the FASB -- Financial Accounting Standards Board -- voted to change subscription reporting rules. Apple should be Apple to record most, but not all, revenue; small portion would still be deferred.
As early as fourth calendar quarter, which would be Apple's fiscal 2010 first quarter, companies can report certain kinds of subscription revenue with other results, meaning on a GAAP basis. The change isn't mandatory until 2011. Apple plans to change its accounting by fiscal 2011 first quarter but could start sooner, Oppenheimer told financial analysts. "Making this change will be complex," he said, noting that Apple's fiscal 2010 first quarter guidance is based on the current, deferred revenue model.
For Apple, the change will dramatically boost revenues and earnings and offer some unfair competitive comparisons to some competitors. For example, worldwide handset leader Nokia reports revenue on the global equivalent of GAAP/non-GAAP --International Financial Reporting Standards (IFRS)/non-IFRS as set by the International Accounting Standards Board.
On a non-GAAP basis, for fiscal 2009 fourth quarter, Apple revenue would be $12.25 billion revenue, with net profit of $2.85 billion. For the year-ago quarter, non-GAAP revenue was $11.68 billion, with a quarterly net profit of $2.44 billion. The difference is phenomenal, almost 40 percent in fiscal fourth quarter 2008.
Because of the accounting change, Apple will get an extra revenue boost from previous quarters, depending on when the company adopts the new rules. Based on FASB rules, already reported revenue must be realized over time. Apple can't take it all at once. So for a few quarters, Apple can recognize all iPhone/iPod touch in that quarter and some deferred revenue, too. But there will be a price paid in future quarters in year-over-year comparisons unless iPhone/iPod touch sales surge.