Verizon's Droid claims 10,000 apps, graphics co-processor, and 'a map for that'

At a sneak preview in New York City on Thursday night, execs from Verizon Wireless, Motorola, and Google gave reporters from Betanews and elsewhere a point-by-point illustration, supported by a few of Android's 10,000-plus apps. They also showed off some features not even mentioned in Verizon's anti-iPhone marketing blitz: a stellar 3.7-inch high res display, turn-by-turn GPS voice navigation with Google Latitude and Street Views, and innovative peripherals like a car mount and multimedia station.
In a scathing new ad campaign, Verizon takes aim at everything Apple's rival iPhone doesn't do. "iDon't have a real keyboard," according to an ad. "iDon't run simultaneous apps," and so on, and so forth.
But as they say, seeing is sometimes believing. As I witnessed during demos on Wednesday, Droid does have a "real" slideout keyboard, although some have criticized it as kind of cramped.
"At 13.7 millimeters, this is the thinnest slider QWERTY around," said Juan Ignacio Sarmiento, a Motorola marketing evec, as he pulled the slider out from the Droid during the demo.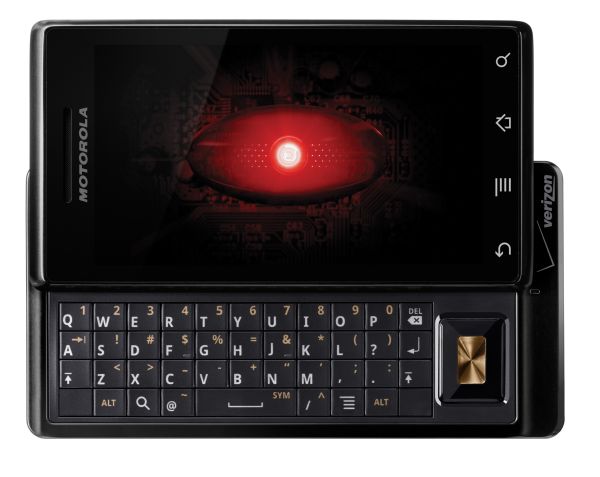 Also aboard the Droid are two software QWERTY keyboards -- one in horizontal (landscape mode) orientation, and the other in vertical (portrait mode).
As advertised, too, the Droid runs multiple apps simultaneously -- a feat achieved, of course, through Android multitasking capabilities. Essentially, you don't need to close out of one app before launching another app, something the iPhone still forces you to do.
In fact, Android is gaining ground fast against Apple's App Store for iPhones, with more than 10,000 applications already online in the Android Market, Sarmiento contended.
I haven't even come close to viewing all of those thousands of Android apps, so it's unclear to me how well all of them will work on the Droid. But also during the meeting, Verizon's Menniti told me that he expects a lot more apps for the Droid to spring from Google's just released SDK 2.0.
Other claims from Verizon also ring true. The Linux-based Android environment supports open development. Some of these apps -- such as a calculator, for example -- are widgets. The Droid's batteries are indeed interchangeable.
I haven't had a chance yet to try out for Droid's 5-megapixel autofocus camera to take night-time photos (another advertising assertion). But Menniti shot some pics successfully in a dimly light corner of the demo room.
Sarmiento attributed the Droid's night-time photo abilities to a dual LED flash, along with work the Droid partners have done around photo issues like color resolution and white balance.
And yes, the Droid is definitely customizable -- and then some. The choice of three different QWERTY keyboards is a help here, and so are the 10,000+ apps and Droid-specific peripherals.
The Droid's high-res display -- specifically, it offers 480x854 WVGA resolution -- is another stunner. With resolution that high, you can view most Web pages at full size, according to Menniti.
To accommodate this high-res screen in a 4.56-by-2.36-inch gizmo, Motorola's engineers might possibly have made some trade-offs in overall processing speed. The Droid's main processor runs at 550 MHz, rather than at the higher rates possible with a heftier chip. But the main processor is also accompanied by a separate on-board graphics chip. And all of the apps I saw operating on Wednesday seemed to be running quite fast enough.
All of the Droid's rich functionality is accessible just by touch, without the need for a stylus. By comparison, Microsoft's Windows Mobile is just starting to reach that goal in its own new version 6.5.
Also in the plus column is the Droid's very broad 3G reach. On maps supplied by Verizon Wireless, you can graphically compare Verizon's huge US coverage area to the much scantier areas served by T-Mobile, Sprint, and even AT&T -- whose 3G network is used by Apple's iPhone in the US.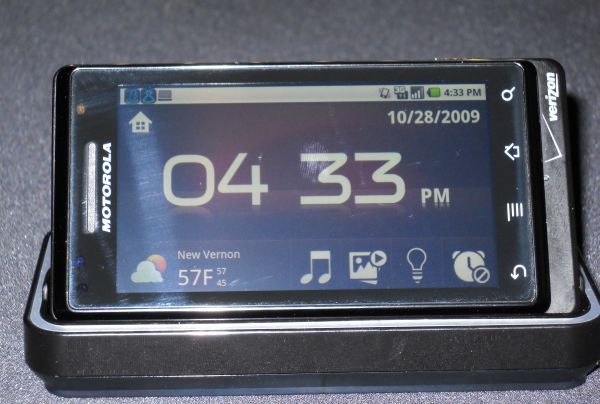 Sitting in its pint-sized multimedia station, while running clock and radio apps, the Droid becomes a digital alarm clock. Pop the Droid into its car mount, and the gizmo turns into a voice-capable on-board GPS system.
Although earlier Android phones have run Googe Maps, the Droid is the first to integrate turn-by-turn navigation, said Google's Michael Siliski, during another demo. This integration also includes Google Latitude and Street Views. According to Siliski, you don't even need to give a street address to get turn-by-turn instructions for driving to a restaurant, for instance.
Siliski told me that it's way too early to tell whether Google will ever market its GPS navigation outside the US.
"We're still in beta with this," he noted. Yet the Droid's just announced Google Maps Navigation is due to leave test mode when the phone ships on November 6.