Nearly half the money spent at US retail on desktop PCs goes to Apple

In October, Mac US retail desktop computer revenue share was 47.71, percent up from 33.44 percent a year earlier, according to NPD. It's a stunning number, given just how many Windows PC companies combined command so much more market share, while competing for the same revenue share.
NPD measures in-store and online sales to compile the numbers. Contrary to blogs or news sites that will link to this post, NPD did not issue a report with this data. I asked for it. That's what reporters do -- ask questions.
The larger questions: Can Apple sustain such high desktop dollar share? Does Apple benefit long-term from the trend? "No" is likely answer to both questions.
Stephen Baker, NPD's vice president of industry analysis, attributes some of Apple's October gains to the release of fast, new iMacs during the same month that Windows PC sales declined ahead of Windows 7's October 22nd launch. "You only really had 10 days to catch up some 20 days of lost [Windows PC] sales," Baker said.
Additionally there is the recession, which force hit following the late-September 2008 stock market crash. "You're comparing the [iMac] launch month this year to the month last year when people stopped going into stores to buy things," Baker said. "To some extent it's a little bit apples and oranges."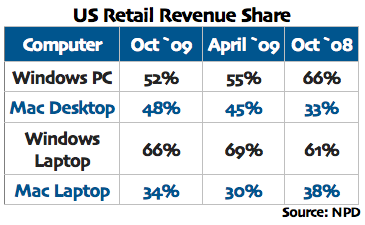 He emphasized: "While those are great numbers, that's probably not sustainable." Perhaps, but even a decline to 40 percent revenue share would put Apple head and torso above every single competitor selling Windows PCs. It's worth noting that Mac desktop revenue share had already risen to 44.91 percent in April 2009, although Baker attributed some of that "pop" to the "residual effects" of new iMac upgrades a month earlier.
One factor helping Apple is average selling price. The Mac maker has largely chosen not to compete with Windows PC manufacturers below $1,000. While price wars continue at the low end among Windows PC manufacturers, Apple's entry-level iMac starts at $1,199. True, Apple offers the Mac mini for $599 or $799, but the ASP is considerably higher than comparably priced Windows PCs. Low-cost Windows PCs typically come with monitor, keyboard and mouse, which are all extra-cost items for Mac mini unless the buyer uses existing gear.
In October, the Mac desktop ASP was $1,338, down from $1,390 in April and $1,581 in October 2008, according to NPD. By comparison, Windows desktop PC ASP was $491, or nearly $900 less than the Mac desktop. Generally, Apple also captures more revenue share on much smaller sales. For example, according to Apple SEC filings, worldwide, the company shipped 3.05 million Macs -- only 787,000 of them desktops -- in third calendar quarter. By comparison, HP shipped 16.1 million PCs and Acer 12.5 million, according to Gartner.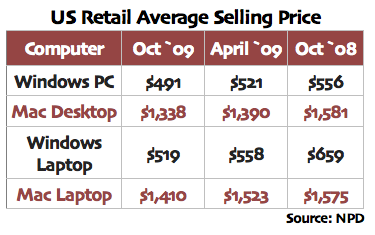 Where Apple's sales are stronger, in notebooks, it's revenue share is by no means as high -- yet still an enviable percentage for any single computer manufacturer. Mac notebook US retail revenue share was 33.66 percent in October, up from 30.07 percent in April but down from 38.13 percent in October 2008. In the year-ago month, Apple released its first unibody MacBooks and MacBook Pros, which lifted revenue share. The change in revenue share from October to April to October bookends the new Mac laptop launches and corroborates Baker's assertion that Apple revenue share will recede in coming months.
"Apple gets a huge bump out of new products that no one else gets," he said. "Those [share increases] haven't tended to be sustainable in the long term."
Maybe, but one third of sales going to one company is an amazing feat -- and it's where the market is growing fastest: Portable computers. The Mac laptop ASP also is much higher than Windows notebooks: respectively, $1,410 to $519 in October, according to NPD. Apple sells fewer units, but commands higher margins on every one than Windows PC manufacturers.
The question ahead: What about Windows 7 and the holidays? On Monday, Gartner predicted that Windows 7 wouldn't lift PC sales in 2009. That's a question to answer in January when the sales figures are final. But based on Apple's ability to defy the recession's downward pull on computer sales and just how consistently busy are the company's retail stores, I'll predict that Mac overall US retail revenue share will stay well above one-third and more than 40 percent for desktops. Surely any Windows PC competitor would want make so much on so few computers sold, comparatively.