CES 2010 Microsoft keynote: Not much Windows Mobile, but Project Natal for Christmas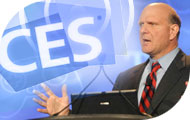 If you believe the forecast, there does not appear to be much hint of Windows Mobile in the air tonight at CES -- this even though Samsung was among the smartphone manufacturers demonstrating new commitments to WM6. Whether or not Microsoft CEO Steve Ballmer talks about it tonight, the topic on many people's minds when he's through will be Windows Mobile. Where's the momentum? Is there any momentum? "Wait until March" will be as good an answer as "No."
---
8:11pm PT: "When something like Project Natal comes along, it rips up your rulebook and throws it away."
Bach: I want you to imagine what will come along in five to ten years...the best of imaginative software and hardware, completely at your service.
End of keynote.
8:09pm PT: "Project Natal will be available this holiday 2010."
8:08pm PT: Natal changes itself to fit the way that the player plays. Peter Molyneaux of Microsoft division Lionhead Studios, saying once he saw the idea, his personal palette was filled with new ideas for interaction.
8:07pm PT: Video demonstrates how the body itself is the input device. "This is the dream of every researcher," says one Ph.D.
First demos used skeletal tracking technology, players used every part of their body.
3D camera uses interpretation of every part of the body, Natal evaluates trillions of body configurations per frame, at 30 fps.
8:06pm PT: Will launch over 1,000 games over the next three years on Game Room.
Looking for controller that makes use of the Z-coordinate. Many visionaries applied to the sci-fi ideal of making a natural user-interface, creating technologies with a 10-year horizon. Researchers break that down into a three-year horizon. Software engineers take the best of that research and meld it with the best of their code. 1,000 patents later, the convergence of years of research. "We are at an exciting inflection point in technology."
Project Natal removes the controller from gaming, freeing the player to have the experience he wants.
8:02pm PT: Get ready to relive the glory days from the '70s and the '80s. 30 original arcade classics from Activision, Atari, Konami, and others from Xbox Live. Can challenge Xbox Live partners to a showdown. Video once again being cut.
8:01pm PT: Zune video on Xbox Live: 1080p video with 5.1 surround sound. No more waiting for buffering. Supposedly demonstrated live viewing of Harry Potter, but it was from the same TV that Ryan had trouble with earlier, so we didn't see the picture.
7:59pm PT: 20 million Xbox Live members, "three times the number of people who watch Oprah." Netflix partnership changed nature of Xbox to something that's used every day. Partnership with BSkyB enables TV from the game console. 100 million songs for Guitar Hero downloaded through Xbox Live. Estimated 4,000 downloads since the beginning of the keynote.
7:57pm PT: Halo: Reach in Fall 2010 on Xbox 360, multi-player beta this spring. "This may very well be the largest beta in the gaming business."
7:55pm PT: Video is being cut from Internet feed version of demo for IP reasons.
7:54pm PT: Halo: Reach tells the story of the epic battle prior to Halo 1.
7:54pm PT: "What Star Wars is to film and Harry Potter is to fantasy books, Halo is to the gaming industry...More than a game, Halo is an epic experience."
7:53pm PT: New genre of game: the psychological action thriller. Mystery writer Alan Wake is the hero who realizes the nightmare he wrote came to light. "Imagine the TV show 'Lost' as written by Stephen King and directed by Peter Lynch, and you have Alan Wake."
7:52pm PT: Mass Effect 2 from EA on January 26, Tom Clancy's Splinter Cell: Conviction, then content parts for Call of Duty 2 from Activision shortly afterward. New installment of Fable, then sequel to Crackdown.
<!media id=4320 center>
7:49pm PT: After another brief Seth Meyers video, moving to Entertainment & Devices President Robbie Bach.
7:46pm PT: Extremely short video. Kindle software is running on it, can download more content from Amazon.
<!media id=4319 center>
The HP slate PC running Amazon Kindle software, featured for about two minutes of the CES 2010 demonstration.
7:45pm PT: Moving to new form factors in slate PCs. HP's is on the right with the Twilight photo. Being shown stationary as examples of slates that can run media. "Our partners are doing great work."
Spotlighting HP Slate PC, with a video supplied by HP.
7:43pm PT: Ballmer: "The world of entertainment and content will come in a number of forms and flavors...No matter what the source of the content, the kind of content, Windows PCs will absolutely offer the greatest variety and the most interesting content experiences in the world."
7:42pm PT: Video on demand store from MediaRoom is also available on Windows Media phones such as HTC's WM model.
7:41pm PT: MediaRoom 2.0 enables new devices for pay-TV service, video over Internet, and content authorship frameworks based on Silverlight. Smooth streaming is the "secret sauce" that blends interactive video with Internet technology, letting operators, developers, and content creators develop next-generation content experiences on the PC.
7:40pm PT: Ballmer: MediaRoom is our software that permits pay-TV service, available to over 4 million users, enjoying every day the TV service on their set-top boxes with the MediaRoom software. (Surprised that this is actually being highlighted, given Windows' move to PCs.) AT&T will enable U-Verse subscribers to use MediaRoom on Xbox 360.
7:39pm PT: At this point, the demo appears to be improvised. Ryan is demonstrating the use of Windows Messenger simultaneously with Windows Media Center, which has never been a "feature" before.
7:37pm PT: CBS front-end written for Windows Media Center in Windows 7. (This is not new software, this has been available since Win7 launch.)
7:36pm PT: "Everything I expect from my TV, and more from my PC." Well yes, if you count untimely crashes.
7:36pm PT: The PC TV has crashed during this demo, once again the power outage is being blamed.
7:35pm PT: New CableCard built into HDTVs can let Windows Media Center record four HD programs simultaneously.
7:33pm PT: 3D live-rendered representation of downtown Seattle in Bing Maps. Can add snow on demand.
7:33pm PT: Bing Maps demonstration shows the precise landing point, in Seahawks Stadium, of the Seattle Seahawks mascot.
7:31pm PT: Windows Live will merge changes Ballmer made to his presentation, with those Ryan made to his.
7:30pm PT: New synchronization in Office 2010 and Windows Live. Along the way, showing off Device Stage once again with the Nikon D5000 camera -- the same one demonstrated last November.
7:29pm PT: Blio [sp?] reader for reading books on an e-reader from an online bookstore. Textbooks have active hyperlinks and controls with audible feedback, as shown in demo of an anatomy textbook. Video can play from directly inside the textbook. Can read the book to the reader directly.
7:27pm PT: Ballmer apologizes for having blown the tube of a TV with built-in PC, apparently during the power outage that may have been responsible for the keynote delay.
7:26pm PT: Asus G61 with Intel Core i7 processor. "3D gaming." Can't actually see the game that's supposed to be played on this system, and neither could Ballmer, with 3D glasses on or off.
7:25pm PT: DirectX11: "The most realistic gaming experience on the planet."
7:23pm PT: New, or semi-new, PC form factors are being demonstrated now, some of which we saw during the Windows 7 launch.
7:19pm PT: Gartner projects 2009 PC shipments gained 3% on the year, rather than forecast 2% drop. "There's no more popular smart device in the world than the PC." More than 12% jump forecast for 2010. "That's incredible momentum."
7:18pm PT: "I'm proud to say that Windows 7 is the fastest selling operating system is history." Customer reaction, 94% satisfaction rate among early adopters in some surveys.
7:17pm PT: 8 million beta testers for Windows 7, for every walk of life and every corner of the globe.
7:15pm PT: "The Zune HD device is getting rave reviews, in both technology and consumer publications." Sold in 17 countries, premium offering in Xbox Live.
<!media id=4318 center>
The HTC HD2 smartphone with Windows Mobile.
"This year we brought the next iteration of Windows Phones into the mobile space with the launch of Windows Mobile 6.5." Shows a new HP T-Mobile-based HTC HD2 phone using WM.
"We will have more to say on Windows Mobile phones next month at Mobile World Congress." No word on Windows Mobile besides showing off the HP phone.
7:13pm PT: New version of Sync for Ford to be unveiled by Ford CEO Alan Mulally tomorrow.
Fiat sold 1 millionth car with Eco-drive technology, for improving fuel consumption and lowering CO2 emissions.
Microsoft and Kia announced a new in-car communications and entertainment system based on Windows Embedded. UVO will launch in Kia Sorrento in 2010.
7:11pm PT: Credits Photosynth as part of Bing (though the original Labs was cancelled)
HP and Microsoft will team in search experiences, with Bing becoming the default search engine on HP-branded PCs in 42 countries worldwide.
7:10pm PT: We refer to Bing as a decision engine, because we want to provide users with the tools they need to make the decisions they want to make.
7:09pm PT: <!media id=4317 center>
7:09pm PT: Credits "a stream of blockbuster games" that changed the face of social entertainment, plus Project Natal, integrated into Xbox 360 and Xbox Live. Over 39 million Xbox 360s in use worldwide, with more than 500 million games sold, or $20 billion in revenue.
7:08pm PT: "We Bing. We Bing, and we Bing. Bing, Bing, Bing, all the time. At least in my world."
7:06pm PT: The increasing importance of change in the screens woven into the fabric of our lives. The cloud meshes the power of intuitive and immersive software. And natural user interface (NUI) technologies, will be the three topics on the agenda.
7:03pm PT: Video shows off Saturday Night Live writer and performer Seth Meyers telling about how technology has influenced our lives. "Before technology, when my grandparents wanted to see me, they had to travel 'cross country...Thanks, technology."
7:02pm PT: Ballmer: "2009 was a year of unprecedented economic turbulence [but] this industry, our industry, continued to invest, to focus, and to bring new technologies to the marketplace."
6:58pm PT: Presentation begins with a statement by CEA President/CEA Gary Shapiro, pointing to the strengthening economy. "In a vigorous market where anyone with an idea can expose it to over 100,000 influencers."
6:47pm PT: This might not be any surprise, at least for the CES early-evening sessions: The festivities are about 18 minutes late to begin at this point.