FCC to delay broadband plan report to Congress, says Commissioner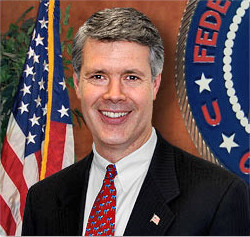 February 17 had been the deadline for the US Federal Communications Commission to deliver a report to Congress specifying the details of its <!article id="1251381344">national broadband plan -- a proposal that would require new federal regulations, and potentially new legislation. But a spokesperson for FCC Commissioner Robert McDowell told Betanews Wednesday evening that Chairman Julius Genachowski had personally informed him the report would not make the deadline.
"I am disappointed that the FCC's broadband team is unable to deliver a national broadband plan to Congress by the statutorily mandated deadline," reads Comm. McDowell's statement this evening. "At the same time, I appreciate that Chairman Genachowski shared the news of his decision with me Tuesday afternoon. Once we receive a draft plan, I hope the document will reflect the benefit of the additional time being prepared to prepare it."
Commissioners and researchers for the FCC may be giving serious thought to <!article id="1262297110">AT&T's request last week for the assertion of a hard and firm deadline -- even if it's only a specific year rather than a day -- for the nation to be able to transition to a broadband-based communications system (as AT&T envisions it, without mentioning 4G specifically) and away from the landline system that the current AT&T inherited from the old Bell System.
With Congress set to debate the merging of the House's and Senate's version of health care reform in conference, the delay of a broadband plan report may not be met with much disappointment on the hill.
---
<!media id=629 center>
9:45 am EST January 7, 2010 · <!external href="http://news.yahoo.com/s/ap/20100107/ap_on_hi_te/us_tec_fcc_broadband">The Associated Press reports this morning that the period of time FCC Chairman Genachowski is seeking for an extension to the plan's deadline, is one month.