Netflix makes more inroads in digital delivery; Will Blockbuster ever catch up?

In another blow to embattled video store retailer Blockbuster, Netflix announced at CES this week agreements with five global consumer electronics devices to introduce Netflix-ready devices later this year. The partners include Funai -- which distributes the Philips, Magnavox, Sylvania and Emerson brands in the United States -- Panasonic, Sanyo, Sharp and Toshiba. Each company will introduce Blu-ray disc players or digital televisions that can stream movies and TV episodes from Netflix to the home.
For $8.99 a month, consumers can watch unlimited Netflix content delivered to Netflix-ready devices -- and both the amount of content and the number of devices are increasing.
The new devices add to existing Netflix ready Blu-ray disc players from Best Buy's Insignia brand, LG Electronics, Samsung, and Sony, as well as Microsoft's Xbox 360 and Sony's PlayStation3.
However, these announcements also add to the burden on the embattled Blockbuster, which is being attacked on the high end by Netflix, for its customers who have and can afford the high bandwidth required to download movies, and on the low end by Redbox, whose 24-hour, $1-a-day kiosks are sprouting like red mushrooms all over the US.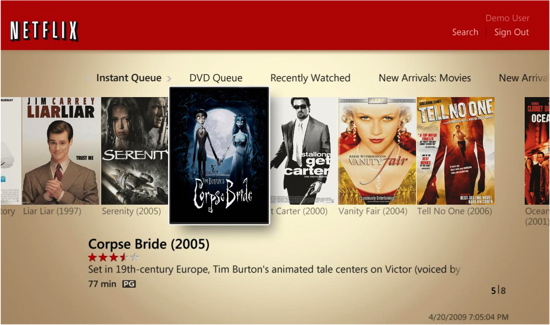 On the other hand, Netflix also announced an agreement with Warner Bros. will continue to make its new release DVD and Blu-ray titles available to Netflix members, though it will add a 28-day window for new releases. That window is intended to boost sales, as well as help rental stores such as Blockbuster. In return, Netflix gets a price break on the disks, as well as adding to the selection of direct to video titles and catalog movies available for streaming. Netflix hopes to reach similar deals with other major movie studios later this year, using the Warner Bros. agreement as a template, according to the Associated Press.
"Nearly three-fourths of DVD sales are made during the first four weeks the discs are in the stores, so turning off Netflix's rental channel during that stretch might spur more impulse buying among consumers who can't wait to see a newly released DVD," the AP story said. Newly released DVDs currently account for about 30 percent of Netflix's shipments, it continued.
Blockbuster was skirting bankruptcy earlier this year, after closing 545 locations in 2008. The company also said in September it could close a total of up to 960 stores by the end of 2010.
The company's attempt to compete with Netflix on a rental-by-mail service, called Total Access, lost 26 percent of its subscribers in 2008. Earlier this year, the company increased the price of its service while increasing the amount of time that consumers would have to wait to get new movies.
Now Blockbuster is attempting to compete with Redbox with its Blockbuster Express kiosks, of which it expects to have 10,000 by the middle of the year after a preliminary roll-out in Florida. Like Redbox, Blockbuster Express charges $1 per night.
At the same time, Hollywood studios are trying to limit the inroads of the $1-a-night kiosks, claiming that they could represent a billion dollar drain on Hollywood's revenues.