CES 2010: Hands-on with the Atom-based Windows 7 Pegatron slate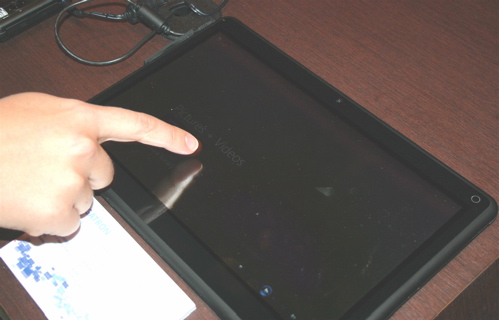 During his <!article id="1262832262">CES 2010 keynote Wednesday, Microsoft CEO Steve Ballmer spent a little bit of time showing off the slate (or tablet, if you prefer) form factor, and Windows 7's integration with it. In addition to the top secret HP tablet which Microsoft told me was flown in just hours before the event and flown right back out again, Ballmer mentioned other slates with large screens.
One of them is the forthcoming Pegatron Slate, which I had the fortune of spending a good deal of time with this afternoon.
<!image id=4377 center>
It's easy to like tablet devices when you're not required to do any work on them. Anyone would be impressed by the Pegatron slate (or most Windows 7 slates, for that matter) if they were just poking around in the entertainment features. But if you try to get down to real, hard text entry, it requires serious mental reprogramming, and that's an instant turn-off. Also, when you're familiar with an operating system and commands done with a trackpad or mouse -- or worse, keyboard shortcuts -- having to reconfigure your mental handling of the OS is troublesome.
<!image id=4376 center>
But in the end, the hardware is solid, the 11.6" touchscreen is responsive, and use of Windows 7 is a breeze. It felt kind of heavy to me, though. But that may be because just beforehand I was handling some "<!article id="1251925555">X-series" notebooks like the Dell Adamo and the Sony Vaio X.
<!image id=4379 center>
<!image id=4380 center>