Microsoft's Bach points to new cloud-centric Windows Mobile, over time

During a Thursday financial analysts' conference at CES 2010, whose transcript has recently been released by Microsoft (DOCX available here), Microsoft Entertainment & Devices division president Robbie Bach painted a broad-brushstroke picture of the Windows Mobile-related announcement the company intends to make next month at Mobile World Congress in Barcelona. Certain carefully phrased elements of that broad outline do offer distinct clues as to the direction the company plans to take with the product, which may be different than some have speculated.
Most telling of all is an analogy Bach cited that implies that whatever does get revealed in five weeks' time may not be a product or service in its entirety, but rather the beginning of a long-range construction project that had not been under development during all this time that customers had been waiting for Windows Mobile 7.
At one point, Bach stated he believed Microsoft needed to demonstrate a dramatic difference over its current mobile offerings. He then added he felt the company had not been as strong as it should have been in presenting a market presence for itself in mobile -- a problem he feels is being remedied by the creation of the "Windows Phone" brand.
In that context, he pointed to the need for a third leg of the project: "Once you get past those things, then you get the opportunity to do a lot of other things. I think there are services opportunities, I think there are search opportunities. I think there are other opportunities we can build on top of that. But, those are sort of the ante to be a serious competitor and somebody who people can look at and say, wow, I think these guys are going to build a big business here and it may take them a little bit of time, but these guys are serious."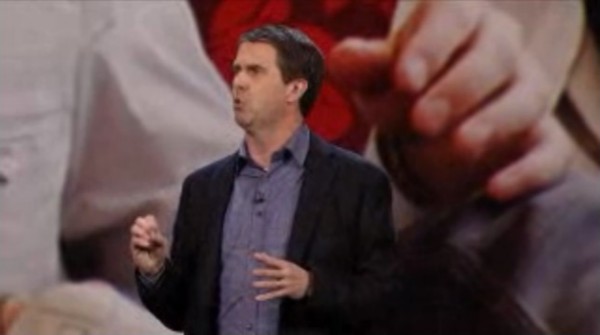 Microsoft Entertainment & Devices division president Robbie Bach during the Wednesday night keynote at CES 2010.
---
In terms of what Bach means by "a little bit of time," he clarified that point during a response to an analyst question much later (the majority of the conference involved discussion of Xbox 360 and the 'Project Natal' bodily-gesture control system). Bach was questioned about whether, amid Android and Palm and BlackBerry and iPhone, there was actually any room left for Windows Mobile. He started by responding that room may be made for Microsoft in the mobile space as long as the shakeout in operating systems -- which he perceives as a probability -- takes out some, perhaps many, of the various flavors of Linux in the field, though apparently not including Android.
Then Bach added this: "You know, overall, you look at markets like this, we think over the next three to five years it's going to be 400 or 500 million smart phones sold a year. I think there's a lot of room." Referring to the differentiator that will determine who stays and who goes, he continued, "It's going to quality in term and not capacity. I think some of the current systems will fall away. I don't think that will be because there's not room for another operating system. I think it's because their quality bar won't stack up. And they won't get the scale that they need. And our job is to make sure we get that scale. So, I won't speculate on the number of operating systems you can see. I certainly think in the feature phone space you'll see some pruning of the Linux tree, and I don't think that's really sustainable."
Overall, Bach was very effective at maintaining interest in a subject about which he would not reveal details. But it was during an answer that was ostensibly about Xbox 360 and Xbox Live that he may have shed more light on one subject than he had intended, specifically in trying to adapt an old Ray Ozzie metaphor -- "three screens and a cloud" -- to his company's current product mix:
"Broadly, when we say three screens, we're saying small portable screen, that mid-sized screen, and then there's the big TV screen. Now, the truth is, those are all going to blend at some level and, in fact, when I say three screens and a cloud I could just as easily be saying many screens and a cloud, because you have more than one PC screen in your household. You have more than one TV screen in your household. And actually in our household we have five mobile phones. So, it's actually a many-screen strategy. Over time the distinction between the screens from the user's perspective, when am I on my phone versus when am I on my PC, that's going to blur a little bit. The service delivery is going to be critical, that's why our cloud applets are so important. That's why I keep talking about cloud delivery, what we're doing with Windows Live, what we're doing with Xbox Live, why Azure is so important to us, because it really will enable us to reach all of those different screens."
Bach's reference to the need for "scale" in the Windows Mobile line (which is not a new reference) has been interpreted as a need to extend the product line from its traditional business-oriented approach to the consumer level (which is Bach's department after all). But that also does not preclude the possibility of a kind of upward scale, into the netbook and smartbook category -- the area which analysts have been expecting Windows 7 to scale down to, and which both Bach and CEO Steve Ballmer were less-than-explicit about during their shared Wednesday evening keynote at CES. Conceivably, a Windows Mobile-enabled netbook could feature the "instant-on" capability that many Linux-based netbooks and smartbooks (using ARM platforms) include, and would not necessarily preclude a household from owning a higher-order Windows 7-based notebook PC, or a Windows Mobile-based smartphone.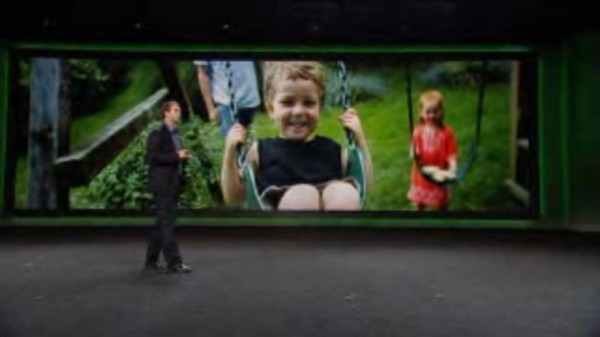 Bach's idea of customer "scale" involves the very opposite of the enterprise segment, as exemplified by this backdrop.
---
The provider of "scale" in this environment, which Robbie Bach alluded to in his answer cited above, is a cloud-based service -- one which could provide smartbooks, netbooks, and PCs the tools they need to maintain synchronicity and a shared workspace for documents. But if you include HDTVs in the broader product mix, that results in four screens and a cloud...which may explain why Bach started disassembling that metaphor in advance of the announcement.
Expect Bing to play an elevated role in next month's announcement too, as Bach bunched cloud and search services together as equally important.
Microsoft waited until today -- after CES was shut down -- to make available to current Windows Phone users an upgrade to Windows Live for Windows Phone, its still-poorly-named suite of shared services. Inexplicably, the company described the upgrade as adding shared IM, photos, Hotmail, and the "What's New" feed, when those features were actually already present and just being touched up. Commenters to Microsoft's blog have already offered corrections, saying the upgrade is actually minor, though necessary.