Texas Instruments networks its calculators

Anyone who has taken a calculus class in the last 20 years is sure to also have a great deal of experience plugging figures into a TI-8X graphic calculator, and I'm sure I'm not alone in feeling a certain pang of geeky nostalgia for the TI-85, a standard-issue tool for high school kids in the 1990's.
Technology has come a long way since the 6 MHz Zilog Z80 processor, but Texas Instruments isn't retiring the popular calculators just yet. Instead, it has moved a significant number of those old devices into the wireless age.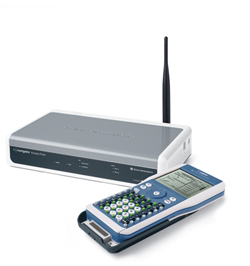 Today, the company announced its TI-Nspire Navigator system, which links a classroom full of graphic calculators together for collaborative teaching, polling, testing, and grading.
Supporting devices from the TI-83 Plus (1999) all the way up to the current TI-Nspire (which offers wireless connectivity of its own), the TI-Navigator system lets students hook their graphic calculators into wireless hubs that communicate with the teacher's PC for lessons and testing.
The program has been piloted by about 3,000 students nationwide and the hardware can be bought through independent instructional dealers.
Since there's a wealth of higher math freeware, TI-Nspire Navigator it may not be the most efficient or versatile way to network a classroom, but you have to admit, it certainly is stretching the life of TI's hardware to an amazing length.